Buying Leads/ Selling leads is where buyers and sellers directly post buying or selling trade offers. It is different from 'Products' in a sense that it is more direct and active buying and selling offers unlike 'Products' where sellers just post them online. It is also divided into a category based on product type, and the category is divided into another subcategory and sub-subcategory for more thorough arrangement.
1. Go to My Buying Tools>
Add a New Buying lead
My Selling Tools>
Add a New Selling lead
.
2. Fill out each
Add a New Buying Lead/Selling Lead
information.

Subject: Type a clear and simple subject.
Category: Click "Choose" button to select a relevant category, or "Frequently used category".
Keywords: It is very important to type the right keywords to assist your suppliers.

Valid Until: Set the valid time until when your lead will be available.
Image: Upload a product image if you have any, to help suppliers with more information.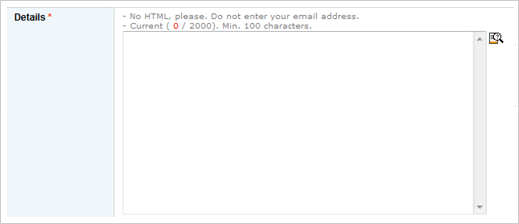 Details: Write the detailed description by following steps.
Paragraph 1. Give a brief company introduction to help build more trust
Paragraph 2. Provide a detailed buying lead description with some key information, such as, product name, size, color, price, quantity, terms of payment and any other relevant information.
Paragraph 3. Invite the suppliers to contact you.

My Contact Preference: Select your contact preference.
To edit or delete Buying Leads/Selling Leads, please go to
Manage Buying Leads/Selling Leads.
All members can post unlimited number of Buying Leads / Selling Leads.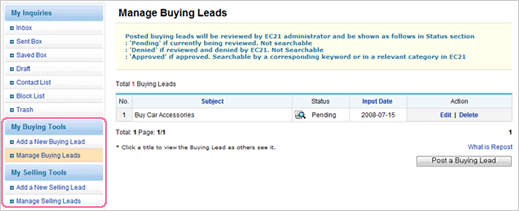 Inspection process
Once you post or edit your buying/selling leads, EC21 staff will go through reviewing process to ensure the better quality of its content. The process will be completed within 24 hours, and only the approved information will be available to view online.
Posted buying leads will be shown as follows in status section
1

'Pending' if currently being reviewed. Not searchable.

2

'Denied' if reviewed and denied by EC21. Not Searchable.

3

'Approved' if approved. Searchable by a corresponding keyword or in a relevant category in EC21.
Please be noted of the followings to avoid your information from being denied.
- Email address should be removed.
- Subject should be written in English.
- Don't use special characters that are not adequate to standard text format.
- Need to provide enough information.
- Image should not be broken.
- Don't use too large size Image.