Disel Opacity Smoke Meter -OP201
Company Name

:

Koeng Co., Ltd.

Membership

:

Free member

Registration Date

:

2002. 06. 02

CountryRegion

:

Korea

City

:

Seoul

Contact

:

Yun-ju, Lee (Ms.)

Related Keywords

:

smoke meter
Quick Information
Model Number :

OP201

Place of Origin :

Korea
Description
Features
Real-time smoke measurement(%, k [m-1])
Portable and LED display
Outstanding accuracy, stability and durability
Response time of 0.5 second
Smoke, SOF measurement
Easy to use with handheld terminal(option)
Built-in printer(option)
RS232C PC program
RPM/ Oil temp. meter(option)
Auto-Zero/ Span calibration function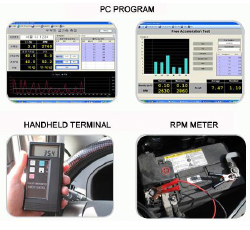 Specification
Measuring item

Smoke opacity ( %, k [m-1] )
RPM (option), °C (option)

Principle

Light extinction method (Partial-flow sampling type)

Light source

Green LED(565nm)

Detector

Photo diode

Range

0.0~100.0% (0.00~21.42m-1 )

Accuracy

Less than 1%

Warm-up time

3~6minutes

Display time

4 times/sec

Power

220V / 110V AC 50/60Hz

Temperature

-10~40℃

Dimension

450(W) x 200(D) x 245(425)(H) mm

Weight

About 7kg

Option

RPM/ Oil temp. meter ,Handheld terminal, Built-in printer , Standard filter, PC program
Installation and measurement OP201
Single unit of the analyzer covers the display and the printing of measured value that are recorded in its main body, and can be easily hand-carried.
No more than one tester operator behind the wheel would be enough to conduct the free acceleration test to obtain the measured value stepping on the accelerator and using wired or wireless handheld terminal.
In supply of diversified basic PC software: PC program are provided in the way to cover regulations from various countries and also ramified for users' purposes such as governmental agency's use, inspection or repair of vehicle.