Build your own homepage. It's free and easy to make! No programming and designing skill is required with our user friendly tools . After you register our membership, your homepage is made automatically in https://yourID.en.ec21.com
In 'My Products' in My EC21, you can literally post and edit your products. To create a new product, simply click [Post New Product]', and input your products information.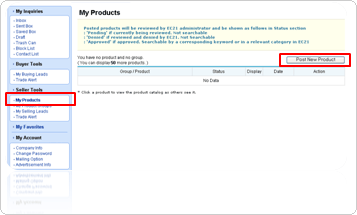 Buying Leads, Selling leads is where buyers and sellers directly post buying or selling trade offers. It is different from 'Products' in a sense that it is more direct and active buying and selling offers unlike 'Products' where sellers just post them online.