Henan Richi Machinery SZLH250 1-2 ton feed pellet machine for chicken duck goose, is applied for processing grains such as corn, wheat, beans, etc. into animal feed pellets and aquatic feed pellets. Our SZLH ring die feed pellet mill has a good market worldwide and enjoys a high reputation with professional installation guidance and technical support. Need large scale poultry(chicken ,duck ,goose, bird) feed pellet production? SZLH250 feed pellet mill is specially designed for you!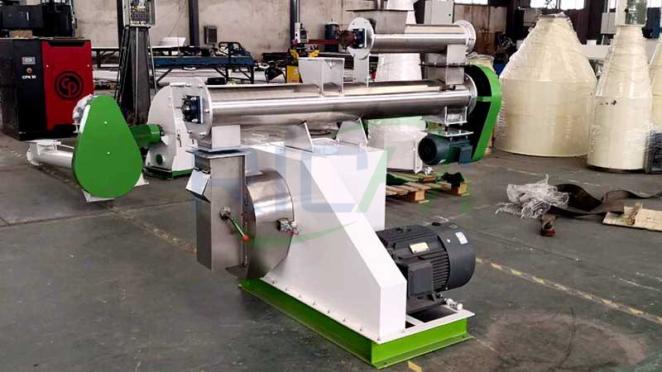 Model: SZLH-250
Capacity: 1-2 t/h feed pellet machine
Certification: CE & SGS & ISO
Application: Can be used in chicken, duck, goose, bird, poultry feed and poultry feed pellet production line
1-2 T/H Feed Pellet Machine Features
1. Host bearings generally use the top ten brands in the world of NSK (Japan), SKF (Switzerland) bearings, reliable quality, long service life!
2. In the rear of pellet machine has the protection switch device , when the spindle bearing and spindle lock, the power can be cut off in time, the spindle has an effective protection effect!
3. Feeder spindle, screw, sleeve, paddle are 304 stainless steel,bearing is SKF brand,longer life.
4. The gap between paddle and the bottom is less than 4mm, the material basically no residue, no manual cleaning residue,but other manufacturers is generally 8-10mm, more material leftovers, If the labor can not be timely clean-up, material cross-contamination, if for a long time production is also easy to pests!
5. Conditioner spindle, paddle, bolt ,wall tube are 304 stainless steel, Conditioner paddle stainless steel castings, bolts fixed installation, angle adjustable, but other factory is welding, the angle can not be adjusted. Conditioner can be adjusted by adjusting the paddle then adjust the material to stay time in conditioner. This is the welding pad can not do!
6. Pellet machine door with 304 stainless steel, other use ordinary carbon steel, pellets from the machine high temperature, moisture, ordinary carbon steel life is generally about six months, and The service life of stainless steel is long-term!
7. Door cutter with a graduated mark can be more accurate regulation of the pellet length, the other manufacturers generally do not have the mark of the cutter!
8. Holder, the ring die, roller high-strength alloy forged pieces, the CNC machining heat treatment, high precision, high strength and long service life.
1-2 T/H Feed Pellet Mill Parameters
| | | | | | | |
| --- | --- | --- | --- | --- | --- | --- |
| Model | Capacity(TPH) | Main Motor Power(kw) | Feeder Motor Power(kw) | Conditioner Power(kw) | Dia.of Ring Die(mm) | Final Pellet(mm) |
| SZLH250 | 1-2 | 22 | 0.75 | 1.5 | 250 | 2~12 |
Henan Richi Machinery Co., Ltd Contact
Henan Richi Machinery Co., Ltd Contact
phone/whatsapp:+86 15003890639
Wood/Feed Pellet Mill: https://www.pellet-richi.com
Feed Pellet Mill: https://www.feed-pellet-plant.com
Wood Pellet Mill: https://www.wood-pellet-plant.com
https://www.cn-pelletmachine.com