Henan Richi Machinery SZLH858 25-42 ton large pelletizing machine is applied for processing grains such as corn, wheat, beans, etc. into animal feed pellets and aquatic feed pellets. Our SZLH ring die feed pellet mill has a good market worldwide and enjoys a high reputation with professional installation guidance and technical support. Need large scale animal(pig, rabbit, dog, horse, cow, sheep, chicken) feed pellet production or aquatic(sinking fish, floating fish, shrimp, crab)feed pellet production? SZLH858 feed pellet machine is specially designed for you!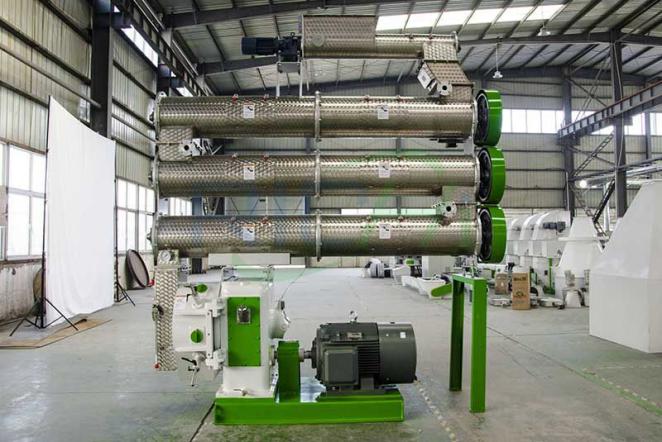 Working Principle of Ring Die Feed Pellet Mill
The raw material for this machine can be the food grain like corn, wheat and the crushed waste fromagriculture for example, corn straw, groundnut shell, grass, wheatbran, sawdust, and animal manure and so on, they can be pressedinto both feedstuffs for many kinds of animals and biomass fuel,the diameter of the pellet can be 1-12mm, when processing, thelower temperature can maintain the nutrition of the products. Andthrough general extrusion, it can kill micro-organisms, parasitesto prevent disease and to store it easily.
The material is put into the screw feeder which can be easily adjusted for the feeding speed and getting proper material flow. After this, the material goes into a conditioner where hot steam can provide favorable conditioning. Then, the material temperature is maintained about 64-85 C and moisture between 14-16% before entering the pressing chamber. In the pressing chamber, materials will naturally be compressed into pellet form through the die holes under the high pressure of rollers.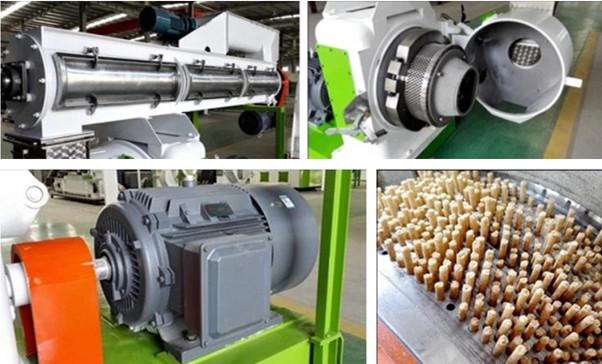 25T/H 35T/H 40T/H Feed Pellet Machine Features
1. Imported high-quality bearing and oil seal are adopted to ensure efficient, stable and low-noise whole machine operation . the granulating room is equipped with air suction temperature reducing system.
2. Widely applied product with mature technology.
3. The main driving adopts high-precision gear drive, so that the output is improved by about 20% when compared with that of belt drive.
4. The feeder adopts variable-frequency and variable-speed motor to ensure the quality of discharged particles.
5. International advanced compensation type snakelike spring coupling has the propertied of novel and compact structure, high safety, low noise and low fault rate.
6. Ring dies with multiple kinds of bore diameters are optional . and high-quality craft ring dies are adopted, so that the service life is long. The discharged particles are smooth and the quality is high.
25T/H 35T/H 40T/H Feed Pellet Machine Parameters
| | | | | | | |
| --- | --- | --- | --- | --- | --- | --- |
| Model | Capacity(TPH) | Main Motor Power(kw) | Feeder Motor Power(kw) | Conditioner Power(kw) | Dia.of Ring Die(mm) | Final Pellet(mm) |
| SLZH858 | 25-42 | 280/315 | 2.2 | 15 | 858 | 2~18 |
Superiority of feed pellets
● Pelletizing rate is more than 95%.
● Uniform size, slippery surface, which is convenient to store and not easy to deteriorate.
●Cooked and digestive, have balanced combination of different kinds of nutrition for the better growth of livestock, poultry and other animals.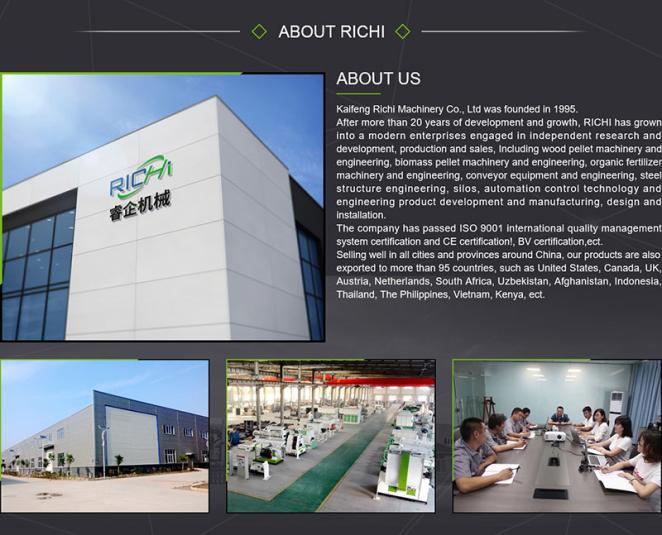 Henan Richi Machinery Co., Ltd Contact
phone/whatsapp:+86 15003890639
Wood/Feed Pellet Mill: https://www.pellet-richi.com
Feed Pellet Mill: https://www.feed-pellet-plant.com
Wood Pellet Mill: https://www.wood-pellet-plant.com
https://www.cn-pelletmachine.com