About our 10t/h feed chicken/fish/cow feed pellet production line
Ring Die Feed Pellet Machine The models in the digestion and absorption of foreign advanced technology of our company based on the successful model of using rotating roller plate inlaid, the function has reached the international advanced level. The machine is equipped with overload protection, evenly distributed, low noise, making its operations more secure and reliable. Conditioner with large diameter, so that material to ripen more fully and make the grain more smooth, moderate hardness, rate of 98%, and minimize the rate of wear. Speed feed accurately controlling feeding quantity, and to adapt to different materials, production needs with different particle diameters.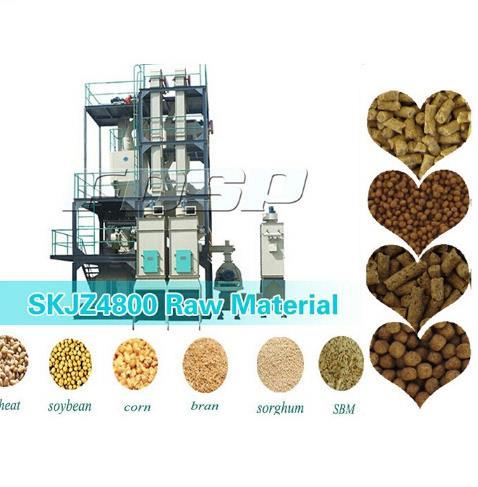 10t/h feed chicken/fish/cow feed pellets product processing
Raw material receiving and cleaning process—Grinding process—Mixing process—Pelleting process—Cooling process—Crumbling process—Screening process—Packing process
Advantage of 10t/h feed chicken/fish/cow feed pellet production line:
1.Directly transmission with high-precision,evolvent,cylinder,helical tooth gear,transmission efficiency more than 90%.
2.Transmission gear and gear billet through normalizing high heat treatment,enhance hardness of the tooth surface adopt carburize technologh,carburized layer reach 2.4mm,increase the abrasive resistance,increase the lifetime,tooth surface handle through accurate grinding,silent,tip relief,make it operation with quiet and smooth and steady.
3.Principal axis and connection hollow shaft both adopt German alloy steel,through water hammer,rough turn,heat treatment,finish turning.
4.The bear and oil seal for transmission part all adopt Japan high precision bear and America wear-resisting,Heat-resistant fluoro rubber oil seal;add lubrication oil return system,oil circulating cooling,automatic timing for oil lubrication,to ensure adequate lubrication of the bearing,operation more safe and reliable.
5.Pelleting molding system adopt high quality silent bear,and add thin oil circulation cooling lubrication system,the lifetime will increase,operation more safe.
We can offer
Our company(FDSP) have specialized in feed milling production line for almost twenty years. We can construct 10-120t/h feed production line, such as livestock, poultry, aqua, prawn and premix, at various scales.