DGR Electric Cylinder Model number indications:
DGREC

39

T5

L500

S100

Economical electric cylinder

Bore/

size

Lead

T5=5mm T10=10mm

Stroke

L500=500mm

Rated speed

S100=100mm/s

F0.05

I/U

P200

i1

Rated load

F0.05=0.05KN

Motor mounting

Inline mounting :I

Parallel mounting:U

Power

P200=200W

Gear Ratio

i1=1:1

i1.5=1.5:1

……

i100=100:1
DGREC39 Micro linear actuator for 6DOF hexapod positionersTechnical Data
| | |
| --- | --- |
| Product Series | DGREC39 |
| Screw lead / pitch (mm) | 2 |
| Max. Power of Motor (W) | 200 |
| Max. Rated Thrust (N) | 50 |
| Max. Speed (mm/s) | 100 |
| Rated Driving Torque (N.m) | 0.018 |
| Max. Ball Screw Diameter (mm) | 8 |
| Rated Dynamic Load of Ball Screw (kgf) | 135 |
| Max. stroke (mm) | 500 |
| Axial Backlash (mm) | 0.02-0.04 |
| Lead Error Every 300mm (mm) | 0.023 |
| Repeatability Accuracy (mm) | 0.02 |
Note:
1. If you need to know the ball screw life, please contact customer service for detailed consultation;
2. The max. thrust and the max. speed can not be reached at the same time. Different motor and gear boxes will be used.
3. If the Max. stroke exceeds 500mm, it is recommended to add a guiding device;
Note: If you require beyond the specification chart above, please contact us directly, we can able to customize according to customers' requirements on the load (up to 20 ton), speed(up to 2000mm/s) and stroke (up to 2800mm).
DGREC39 12V/24V Mini Electric Servo Linear Actuator Motor Selection List
| | |
| --- | --- |
| Product Series | DGREC39 |
| Flange Size of Optional Servo Motor Series (mm) | 40 |
| Flange Size of Optional Stepper Motor Series (mm) | 39/ 42 |
| Flange Size of Optional Gear Box Series (mm) | - |
Note:
1.DGR electric cylinder servo motor brands include Panasonic, Mitsubishi, Yaskawa, Delta, Syntron, Motec, and Tuoda;
2. DGR electric cylinder stepper motor brands include Japan Samsr, Leadshine, MOONS', etc;
3. The DGR electric cylinder gear box brands include Nidec-Shimpo, Taiwan KunTai, Taiwan Li Ming, and Shanghai Jinmo;
4. The cylinder can be equiped with a motor or gear box, and the motor brands and gear box brands can be designated by the customers, please kindly contact our sales for more detailed information;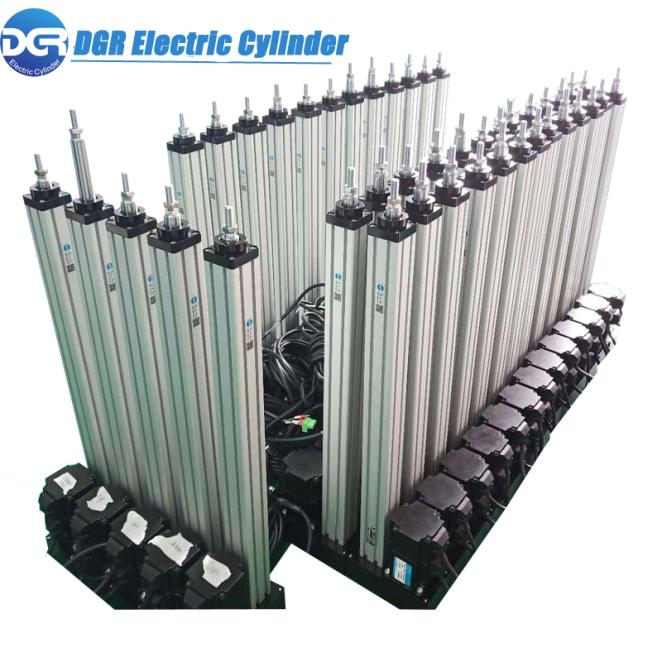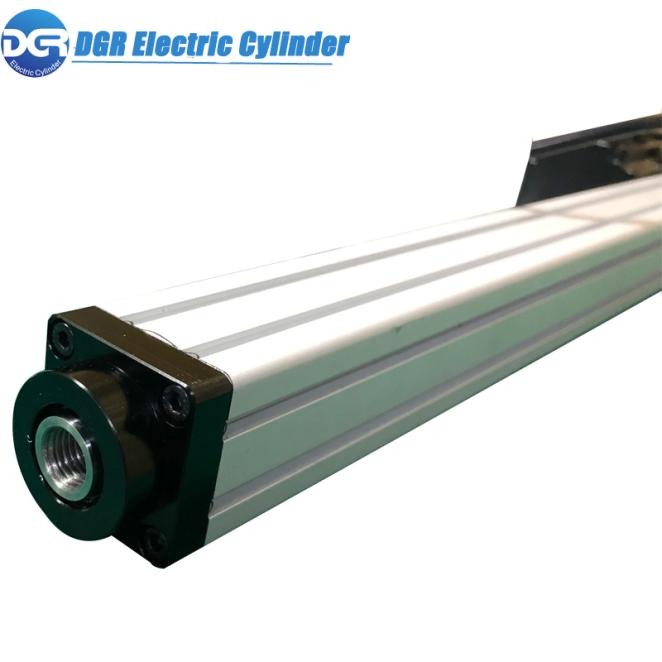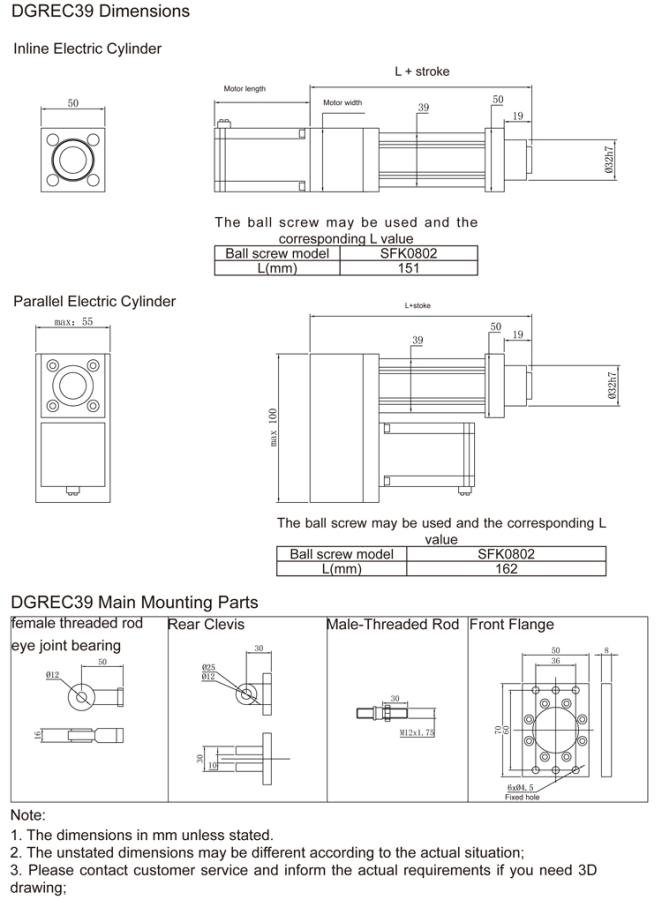 Features of DGREC39 Electric Cylinder
High Accuracy
High precision, the processing of key parts is completed by CNC machining, and the machining accuracy is within 0.02mm.
High Reliability
Highly reliable, safety factor>2 ( PS: safety factor for key parts > 4), which is in compliance with metallurgical standard.
Long Life
Run over a distance of 100,000km
Wide Thrust Range
Select famous branded roller ball screws, ball screws and lead screws which are made of high-quality materials for our electric cylinders in order to reach double the theoretical rated push-pull force.
Careful Material Selection
1. Select aluminum alloy as the cylinder material, simple and light, beautiful appearance
2. Select sensor components of internationally famous brands .
3. Key components are made of high quality materials and processed with vacuum heat treatment or surface treatment (including: coating, azotizing, oxidation)
4. Select branded bearings and gears to achieve the best mechanical performance in mechanical structure
5. Select high-quality grease to minimize friction, which enables the drive efficiency to reach up to 90%.
Refined Design and Processing
1. The connection between the screw nut and the piston rod is rigid
2. Snap fastener will be required to locate the part in its fixed position to avoid assembly errors that affect mechanical properties.
3. All screw threads are coated with screw locking adhesive after commissioning to ensure the equipment is stable and trouble-free.
4. Electric cylinder comes with anti-rotation mechanism by default
5. Professional machining processing equipment minimizes the cost.
6. Adopt domestic ball screw and bearing products, light load output, high cost performance (这句话仅限于轻载系列产品使用)
Duty Cycle
Ball screws are used for frequent operation of electric cylinders, the duty cycle is ensured to be greater than 50% or continuous operation.
Complete Testing
Professional factory inspection: including appearance, mechanical properties, stability, noise decibels, etc.
Excellent Service
1. Each DGR electric cylinder is backed by a lifelong tracking service to ensure it can be used normally over its life cycle. (including: handling product failure, providing spare parts and technical support)
2. DGR Electric cylinder can be custom engineered for customer's particular application.
3.5 years' experience in electric cylinder production.
4.All customer requirements will be responded within 12 hours
Wide Selection of Motors
1. A variety of AC servo motors or stepper motors for option: such as Delta, Mitsubishi, Panasonic, Yaskawa and other brands
2. Motor comes with brake to ensure secure operation.
DGR Electric Cylinder Applications
Entertainment

Six degrees of freedom motion platform widely used in a variety of simulation, entertainment equipment, robotic arms, dynamic seats in movie theaters.

VR Simulations

Multi-degree of freedom platforms can be applied to virtual reality motion seats, such as: VR gaming, racing simulator

Automobile industry

Electric cylinder servo press, also known as precision servo press, its working principle is that servo motor drives high-precision ball screw for precision pressure assembly work, can be realized in the pressure assembly operation Closed-loop control of the entire process of press-fitting force and press-in depth enables precise press-fitting of online quality management.Widely used in: Automotive industry: Press-fitting of engine components (cylinder heads, liners, oil seals, etc.), press-fitting of steering gear assemblies (gears, pins, etc.), press-fitting of driveshaft assemblies, press-fitting of gearbox assemblies, brake disc assemblies Press-fitting, etc.;

3D Robotic Billboard

The motor controls the motion of each unit in the 3D robotic billboard, and constructs various static and dynamic patterns through matrix elevation changes to simulate three-dimensional topography, text patterns, wave motion, and the like. The 3D robotic billboard can also be combined with projection and digital image to realize the multimedia and digitization of the matrix, making it more ornamental and dynamic.

The electric cylinders are widely used in the automation industry, such as automation production line, steel continuous casting, material handling, injection molding machine, valve control, precision machine tools, pharmaceutical machinery, precision machining, mechanical lifting platform, food industry, etc

Solar Tracking Systems

The solar tracking system maximizes the solar system's electricity production by moving the solar panels by electric cylinders to follow the sun throughout the day, which optimizes the angle at which your panels receive solar radiation. The electric cylinder includes: motor (DC brushless motor, stepper motor, servo motor Etc.), worm gears, push rod, sensor systems, etc.
Brand Introduction
Shenzhen DGR Electric Cylinder Technology Co., Ltd. is a high-tech innovative private enterprise specialized in designing and manufacturing of linear motion products, including servo motor electric cylinders, stepper motor electric cylinders.
Since January 2014, Shenzhen DGR Electric Cylinder Technology Co., Ltd has
introduced advanced technology and hired senior mechanical motion engineers for
researching and developing linear motion system, the electric cylinder developed
by the company featured high positioning accuracy, low noise and long life. It has
received compliments from many famous enterprises worldwide.