2-10kg Animal Licking Mineral Block Hydraulic Press for Powder Molding
YQ32 Animal Licking Mineral 1-10kg square salt block press machine designed specially for compressing 1kg, 2kg, 3kg, 5kg 10kg square or round animal salt licking blocks, animal feeding nutritional blocks, salt briquettes and so on.
Combined with many years of Research,Design,and production experience.
This kind of hydraulic tablet press machine continued our former manufactured model essence,aimed at salt lick pressing forming feature.
High pressure, very good stability for long-time high pressure.
The mould of hydraulic tablet press machine replaced very easy,operation automatically with a high degree.
No need to add material into the middle mould by manual.
This tablet press machine have hopper, just need to put the material into the hopper, then the pusher will feeding the material into middle mould automatically and compressed itself.
PLC controls every tablet that pressing and be formed out movement very precisely. Compressed automatically and continuously.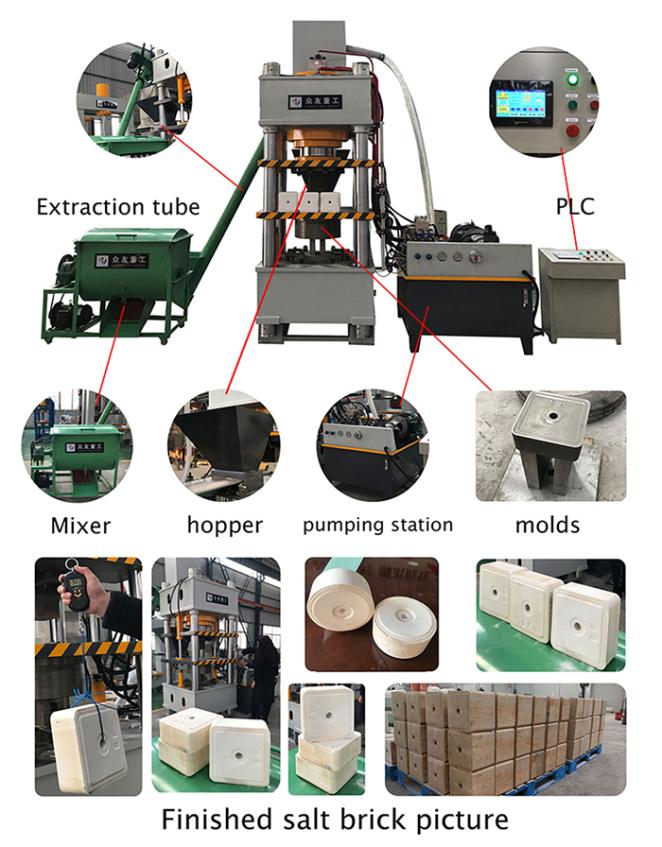 315 ton salt block making machine

3kg salt block

500 ton salt block making machine

3-10kg salt block

800 ton salt block making machine

10-15kg salt block

1000 ton salt block making machine

10-25kg salt bloc

k