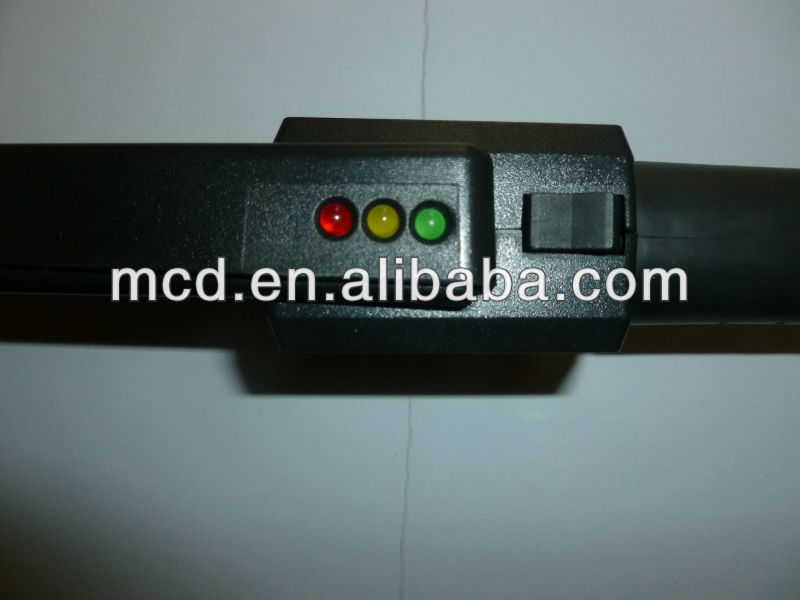 MCD-5180 metal detector has been a long-time favorite of law enforcement professionals around the world.
MCD-5180 metal detector virtually eliminates the need for pat downs during weapons screenings, saving patrons from embarrassment and helping to protect police officers from needles and other harmful paraphernalia.
MCD-5180 metal detector features a sensitivity reduction switch to help minimize rebar interference while
scanning at ankle level. Large scan surface of this metal detector enables quick and thorough scanning.
Feature:
1.Ultimate sensitivity
Detects medium sized pistol from 9"; large knife from 6"; razor blade and box cutter from 3"; foil-wrapped drugs and tiny jewelry from 1"
2.Sef-calibrating:
digital microprocessor technology eliminates the need for periodic sensitivity adjustments
3.Rugged,high-impact ABS case with reinforced coil compartment .Exceeds MIL-Std-810F(drop test)Method 516.5,procedures 2 and 5
4. large 10'' scan surface for quick ,thorough scanning
5.Sharp audible alarm and bright red LED light indicates the detection of metal
6.Momentary push button helps temporily eliminate detection of nearby ambient metal such as rebar, metal walls
7.Three-color LED indicates:
Green LED indicates ON,
Yellow LED indicates low battery
Red LED indicates ALARM
8.Warrenty :24 months,parts and labor
9.Operating Temperatures:-37 degree to 70 degree
10.Humidity: To 95% noncondensing
11.Audio Frequency:2 KHZ Warble
12.Tuning:Automatic