Video of smls pipes production
Huike is big factory of steel seamless pipes, it's completed to put into production in 2008, total investment of 940 million rmb , and covers an area of 200 acres.

There are 500 staff currently. The area of the building is 100,000 square meters. Our company is one of the largest professional manufa-cturers of seamless steel tubes in Hebei Province.
The main products are all kinds of specification of tubes, such as oil pipeline tubes, casing tubes, GB8162 structure tubes, GB8163 liquid tubes, GB3087 low-middle pressure boiler tubes, GB5310 high pressure boiler tubes, and GB6479 special fertilizer tubes, Etc. All are produced according to standard API5L or API5CT. The annual production capacity is 300,000 tons.

I. API SPEC 5L
Specifications Ranges:
OD: 1/2"-48" (21.3mm-1219mm)
WT: SCH10-SCH80 (0.5mm-40mm)
Material Standard:
PSL 1: A25, A, B, X42, X46, X52, X56, X60, X65, X70
PSL 2: B, X42, X46, X52, X56, X60, X65, X70, X80
Applications:
For the purpose of transportation of gas,water,oill in oil&gas industry.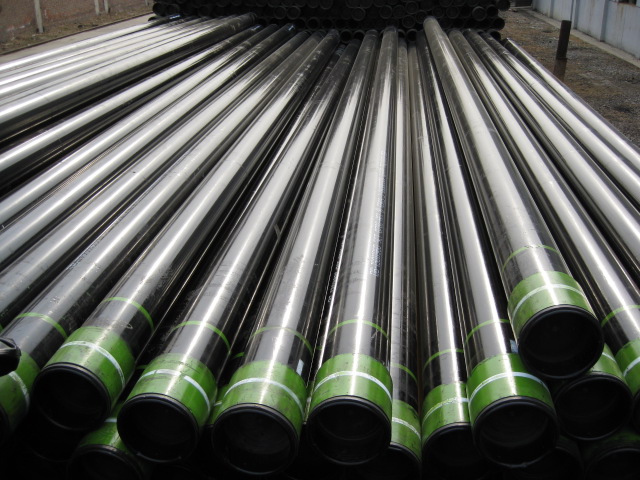 II. API SPEC 5CT (OCTG)

Specifications Ranges:
OD: 1.05"- 20" (26.67mm-508mm)
WT: (2.87mm-23mm)

Material Standard:
J55, K55, N80, L80, P110, Q125, ect
LTC, STC, BTC, VAM, EUE, NUE, ect

Applications:
Tubing is used in extracting petroleum & natural gas.
Casing pipe serves as wall of well.
Destructive & Non-Destructive Testing
Hydrostatic Testing----- 100% of pipe shall be tested at a pressure specified in above specification.
PSL-1 (NDT) ----- Weld seam of each pipe shall be tested by online Eddy Current Test.
PSL-2 (NDT) ------ Steel skelp and weld seam shall be tested by Ultrasonic Test (after hydro test)
1.Flattentig 1. Flatten upto 1/2 of OD (no crack in weld)
2.Flalten upto 1/3 of OD (no crack or breaks other than in weld)
3. Full Flattening (No Lamination or Burnt Metal)


| | | | | |
| --- | --- | --- | --- | --- |
| ITEM | O.D | SCH40 (6m) | wt/piece | Wt/meter |
| | (mm) | thickness | (kg) | (kg) |
| 1/4" | 13.7 | 2.24 | 3.79 | 0.632 |
| 3/8" | 17.1 | 2.31 | 5.04 | 0.84 |
| 1/2" | 21.3 | 2.77 | 7.62 | 1.27 |
| 3/4" | 26.7 | 2.87 | 10.14 | 1.69 |
| 1" | 33.4 | 3.38 | 15 | 2.50 |
| 1-1/4" | 42.2 | 3.56 | 20.34 | 3.39 |
| 1-1/2" | 48.3 | 3.68 | 24.3 | 4.05 |
| 2" | 60.3 | 3.91 | 32.64 | 5.44 |
| 2-1/2" | 73 | 5.16 | 51.78 | 8.63 |
| 3" | 88.9 | 5.49 | 67.74 | 11.29 |
| 3-1/2" | 101.6 | 5.74 | 81.42 | 13.57 |
| 4" | 114.3 | 6.02 | 96.42 | 16.07 |
| 5" | 141.3 | 6.55 | 130.6 | 21.767 |
| 6" | 168.3 | 7.11 | 169.56 | 28.26 |
| 8" | 219.1 | 8.18 | 255.3 | 42.55 |
| 10" | 273 | 9.27 | 361.86 | 60.31 |
| 12" | 323.8 | 10.31 | 478.38 | 79.73 |