2020 Popular Small Pagoda Tent Marquee for Food Festival Tent

LIRI garden marquee Pagoda Tent Specifications:
Items
3×3m
4×4m
5×5m
6×6m
8×8m
10×10m

side height

2.5m

2.5m

2.5m

2.5m

2.5m

2.6m

ridge height

4.2m

4.8m

5.2m

5.8m

5.8m

6.4m

frame main profile

64.5×64.5×2.5 mm

64.5×64.5×2.5 mm

64.5×64.5×2.5 mm

64.5×64.5×2.5 mm

120×68×3 mm

120×68×3 mm

Bevel Beam

45*45*2mm

45*45*2mm

45*45*2mm

45*45*2mm

45*45*2mm

45*45*2mm

Capacity

6-15 persons

10-20 persons

15-35 persons

35 persons

50 persons

80 persons

Max allowed wind load speed

80km/hour,0.3kn/sqm

frame material

Hard pressed extruded aluminum alloy 6061/T6 (13HW)

PVC sidewall

water proof, fire resistance, UV resistance roof 850k/sqm sidewall 650k/sqm

Eave connection

Hot-dip galvanized steel insert,high reinforced frames
Pagoda Tent garden marquee Materials:
1) Frame uses hard pressed extruded aluminium 6061/T6(13HW).
2) The fabric is double PVC-coated polyester textile. It is high quality at waterproof, flame retardant to DIN4102 B1, M2, UV resistant, waterproof.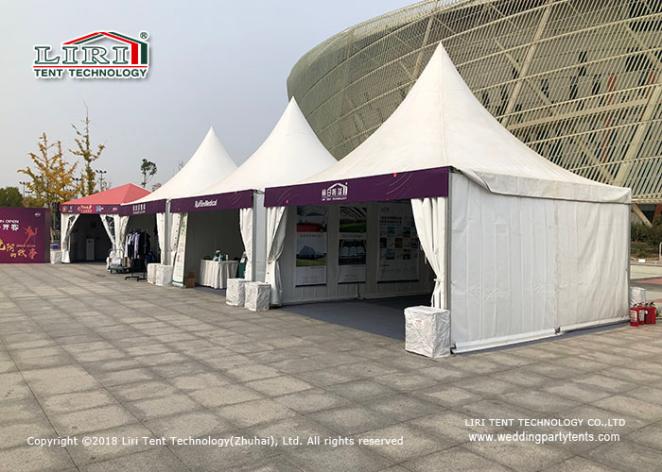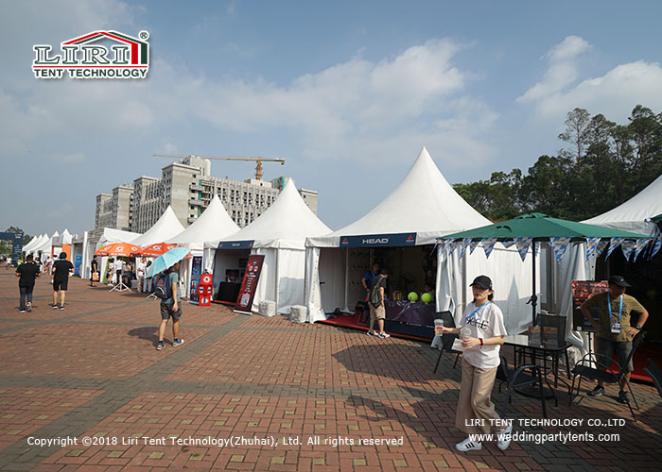 Accessories:
1, covers( colourful cover, transparent cover, inflatable roof cover)
2,windows( dome or square clear PVC windows, mesh window, glass window for glass wall)
3,wooden flooring system(VIP cassette flooring, simple cassette flooring)
4, sidewalls( soft PVC fabric wall, glass wall, ABS hard wall, sandwich panel wall)
5,doors: (double wing glass door, single wing glass door, glass fire door, hard PVC door, rolling shutter(automatic or manual)
6, tent decoration ( roof linings and curtains )
7, furniture ( sofa, tables, chairs, carpet, A/C, fence, etc )
8,fixing methods( anchor, weight plate, weight plate cover)
9, other (lighting, ramp, ventilation system, rain gutter system, digital printing, et)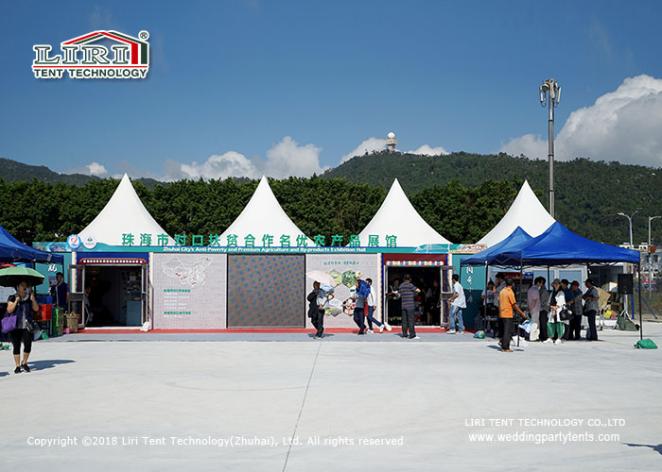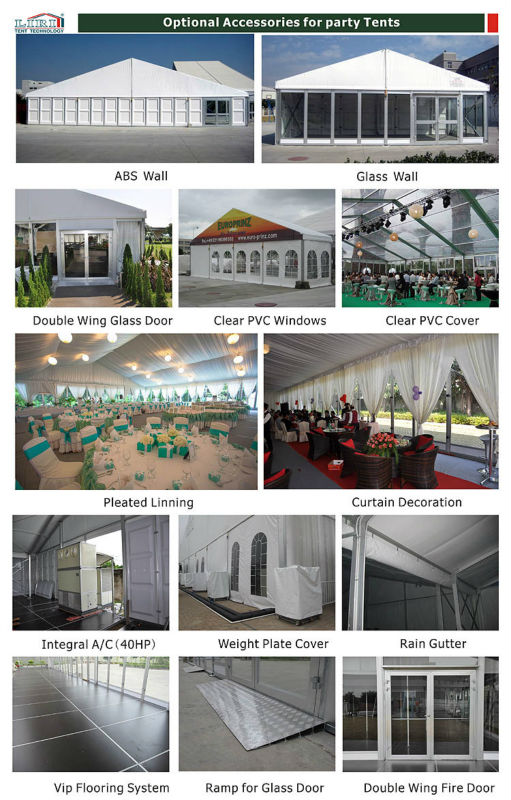 Certificates:
1) Germany TUV Certificate, SGS, ISO9001: 2008
2) Qualification from Australia
3) Qualification from USA
4) Advanced design and Quality proved
5) Fabric: Test reports for the fire retardant, standards: NFPA701, CFM & DIN4102 B1/M2
6) Structure safety: Certificates by the registered engineers in the U. S. A & Australia.

If the customers need above certificates copy, pls feel free to contact with Liri Tent Technology. We will not show them on the website to avoid copys.
Reputation:
1) The first tent manufacturer established in 1997 in China.

2) The largest tent manufacturer in China which covers 30, 000sqm and including 20, 000sqm building area.

3) The most reliable tent supplier. Exported to over 80 countries, and maintaining excellent reputation,

4) The NO. 1 tent exporter for four years in China.

5) Engieer's Company, the owner of Liri Tent is more concern quality and safety than you.
About Us:
The optional accessories for the Pagoda are glass walling system, door units, flooring system, ground anchors, lining, etc.

Pagoda tents can be used as a single unit or combined to enlarge space and become a special structure style with a rain gutter.

They can make your outdoor event become more visually pleasing!

For more information please check our website:www.liri-tents.com.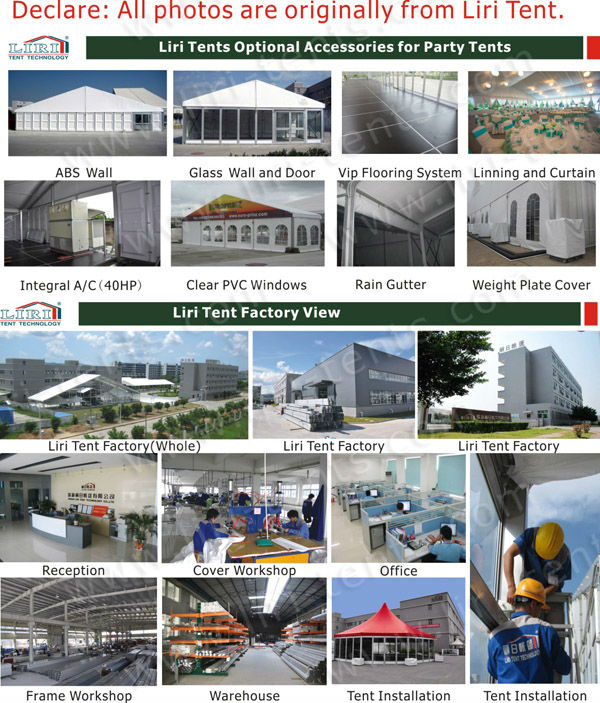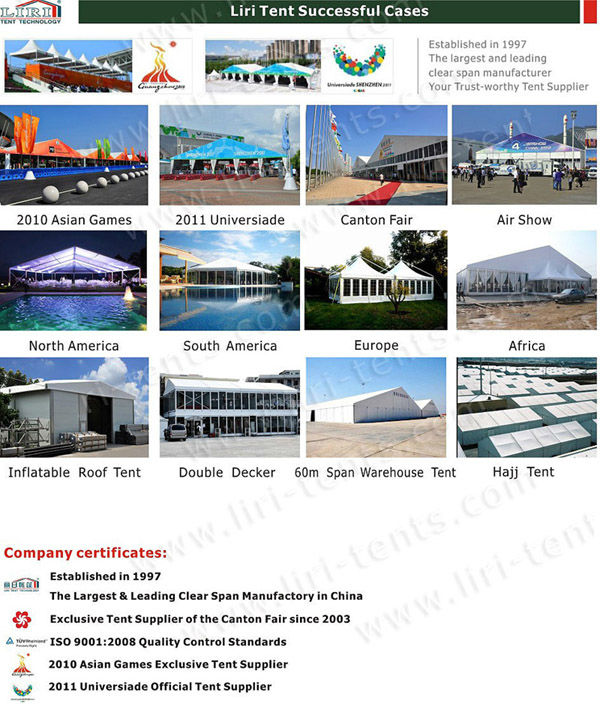 Our transparent top tent is on sale!! Pls contact us for a competitive price.
Company Name: Zhuhai Liri Tent Technology Co., Ltd.​
Contact Person: Blair Zhou
Mobile & WhatsApp: +86-135 7066 9856
Website: http://www.eventtentsforsales.com/