Product Description
2020PE/PVC/NBR/EVA Foam Yoga Mat Making Machine(Extruder +3 Rollers Calender Machine)

Machine used for what?
Produce Yoga mat ,Rubber tile,Rubber carpet,Rubber mat,Rubber flooring,Rubber sheet and other rubber products,etc.
Yoga mat material:EVA foaming or TPE foaming or PVC or CBR
TPE/PVC/NBR/EVA Foam Yoga Mats Making Machine
What is Our machine advantage ?
Pressure doen't drop Lo leakage Low noise
High precision and flexible operation
1.High speed open/close molds, high production efficiency
2.Automatic in/out mold and ejector device, low labor strength
3.ISO CE Certifications
4.Provide one year quality guarantee?
5.Provide all kinds of rubber machine
Product Description

the process : kneader dispersion mixer - cone double feeding machine - single screw extruder--- brace head and net exchanger--sheet mold --3 rollers calender --cooling stacker--sheet cutter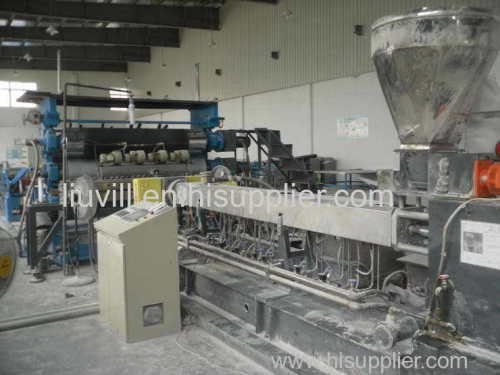 Performance introduction:
1.The Wide width rubber sheet extrusion line is mainly composed of cold feeding pin extruding system, the double-roll calendering system, the six-roll cooling system, the rubber sheet combining system, double-station packing system, etc.
2.The rubber cover of conveyor belt is produced in the following procession, the fully plasticating in the pin-extruder, and then the passing from the extruding die with the help of the double-roll calendering system.
3.The cover wide width of less than 2600mm and thickness of 1.5~1.8mm, is produced without the problem of bubble and fish scale in this procession. And also the additional function, such as rubber covering on the flame retardant belt, can be realized if the production line is equipped with other necessary device.
PE

EPE,PEF,XPE,IXPE,LDPX

XPE FOAM

Chemically /Physically crosslinked polyethylene foam

IXPE FOAM

Irradiation crosslinked polyethylene foam

XPE/IXPE Tech.

The product is LDPE (low density polyethylene) as the main material,

through DCP (cross-linking agent) bridge, adopting AC

(azo type foaming agent) foaming of new material.

In the process of production can lead to add other material modification.
XPE foam material Advantage:
Environmental friendly,.Eco-friendly,Non-toxic
Light and flexible
Superior thermal stability
Anti-bacterial and chemicals
Waterproof and low thermal conductivity
Ideal cushioning and shock-absorbing property
Environmentally friendly, without CFC or HCFC's
A perfect performance in resistant drug and water.
Excellent damp proof and vacuum retention