3 Axis Automatic Dispensing Robot with Precision Valve Dispensing TH-2004D-300KJ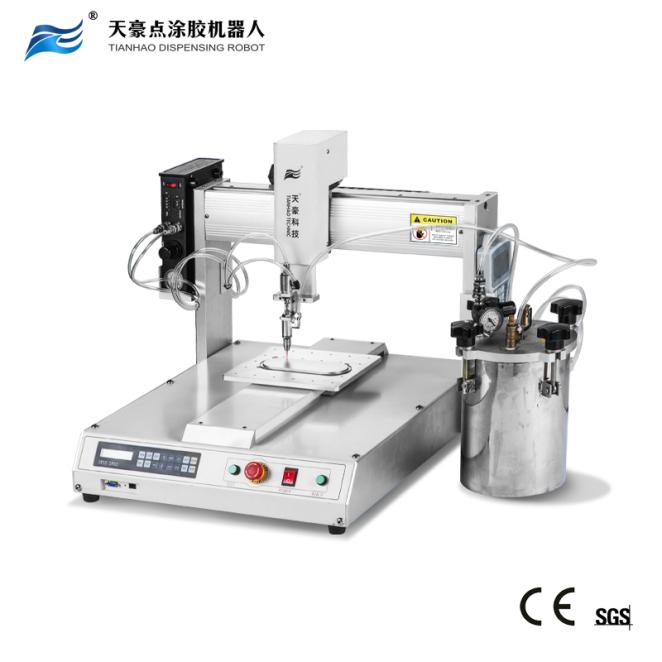 Liquid Materials:
Silicon, oil, adhesive ,UV glue, solid , Epoxy resin , Silver cream, lubricants, instant glue, water, milk, honey, butter, adhesives, sealants, grease, inks and other fluids as part of their assembly processes
Application: Suitable for low viscosity glue product precision coating process requirement in mass production
Packing capacity:tank (0.5liter,2liter,4liter.20liter can option)
Features:
1. Have a big capability cartridge, no need high frequently to replacement of material .
2. User-friendly design, compact and attractive appearance, easy to learn.
3.Tianhao graphics editing software can import such as NC, AI,. DXF,. JPG, BMP and other format files.
4.Professional dispensing software based entirely on the dispensing process development.
5.PLC Controller, Easy to program - Dedicated dispensing software eliminates the need for complex robot language programming.
6.Increase the parameters display with programmer , more intuitive operation.
7.Each axis with 2 linear guide rail, More stable.
8. Z-axis brake motors, greatly increased the stability of the equipment and motion accuracy.
9.XY work range increased 20MM.
10.Single machine can operation.
11.Feed tank using special material handling non-stick glue.
specification
ITEM

TH-2004D-300KJ

TH-2004D-400KJ

TH-2004D-500KJ

X/Y/Zworking range

320 x 320 x 100mm

420 x 420 x 100mm

520 x 520 x 100mm

Standard

CE Approved

XY/ZMaximum Load

10 kg / 3 kg

XY/Z Speed

0.1-800/350 mm/Axis

Repeatability

±0.01mm/Axis

Data memory capacity

999programs

Display way

LCD display

Drive System

Precision micro-stepper motor

Transmission

Timing Belt/ Precision Linear Guides

Edit Programming

Handheld Programmer

I/O Signals

4 Inputs / 4 Outputs

Patterns

Dots,Line,Potting, Filling,,Encapsulation,Sealing,Coating,Jetting

Power Supply

AC110V/220V Internal conversion

Working Temperature

0 -40℃

Relative Humidity

20-90% (no condensation)

Dimensions (WxDxH)cm

580 x 500 x 610

680 x 680 x 610

700 x 680 x 610

Weight

34kgs

39kgs

46kgs