3000w Home Backup Emergency Outdoor Camping UPS Power Supply Solar Station
PECRON-Q3000 is a multiple and portable AC-DC emergency power generator which s designed with the safe lithium-ion battery and SPWM inverter technology. It's a kind of back-up power station that's very easy to carry and convenient offering power to electrical appliances with advantages of light weight, large capacity , high power and multiple functions; This item is always used in the field of mobile office working, emergency communication, power lines repair, medical facility, exploration and survey, military, fire rescue and somewhere is lack of power energy; It's with capacity of 29.4V72.8AH/1886WH.The followings are its main functions:
♦ 220V/50Hz or 110V/60Hz pure-sine wave AC output;
♦ DC 29.4V/10A,5V/2A dual USB output;
♦ Smart display indicating the battery capacity, power of input and output and remaining working hours; ♦ Solar charging for option (please match solar controller);
Panel function description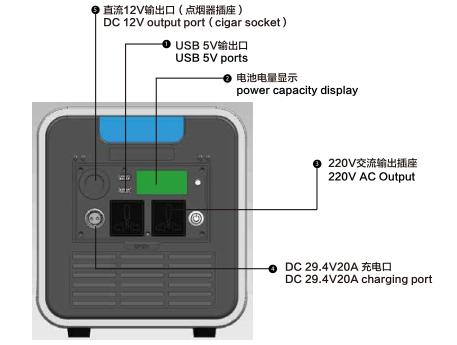 ◆ AC output: Both AC output sockets are with AC220V, 50HZ and output can be customized as 110V,60HZ output for Japanese and USA markets and etc.
◆ Power switch: Press it, AC 220V output will work, and the switch indicator lights; Press it again, output stops working and indicator is off.
◆ Smart Display: Show the remaining battery capacity with precise percentage.And the battery volume won't change when voltage is fluctuating. You can see the real load power during charging and discharging as well as the remaining working hours. When charging, you could see how many hours to fully charge the device; And when discharging, the hours you see means the left working hours. After several years of long-term working for the power pack, if the remaining battery capacity shows XX%, but there is a low voltage alarm, it means the battery volume is attenuating and there is a self-loss for the battery.
◆ Battery capacity button: press this button to check the remaining battery volume. And the display will be off automatically after 20S. At the same time, the button is for the switch of USB5V. When there is no output for the USB port, please press this button.
◆ USB5V output ports: Support power with 5V2A.
◆DC charging port: Charge by solar panel, wind with standard 29.4V by first constant current and then constant voltage charging model. Please note that the max charging current is 8A with wide voltage range of 10V-40V.
◆ 12V output : Supply power to 12V appliances with max 10A;
Technical specification
NO.

Model

Q2000

Q3000

1

Continuous rated power

2000W

2

Peak power

3000W

3

Out voltage

AC pure-sine wave 220V/50HZ

DC 5V2A 29.4V10A

4

Battery type

18650-16P7S( 3.7V 2600mAh)

5

Battery capacity

29.4V/72.8AH

29.4V/104AH

6

Battery life

70%@1000cycle

7

Charging time

External charging adapter 10A

5 ~ 6 H

7-8 H

8

Charging current and voltage

AC 180~260V

DC29.4V 15A(MAX, built-in charger)

9

Protection

Over-voltage, over temperature,overload and short circuit

10

Working environment

-20℃ ~ 60℃

11

Dissipation

Cooling fan

12

Dimension(mm):

(L*W*H)410*250*270

13

Shell material

PC+ABS metal and cold rolling

14

Weight(kg):

21

28
Company Information