20KV SPD, Safe Driveway Luminaire. LED Street Light is designed to replace your 1000W old fixtures, which are noisy, bad quality, waste energy, waste electronic bill, hot lampshade etc. It is time to make a switch and experience the impressive light quality from XY LIGHTING street light. This fixture resists dampness and wetness, which focus on extremely weather and wear resistant design, perfect for any damp or wet locations. Resists rust, corrosion, cracking and any electrical shocks or fires due to moisture.
Technical Characteristic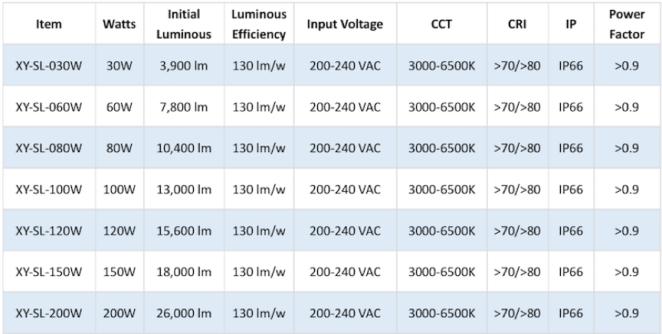 Qualification
CE ROHS IP66
Features
LED Street Light with Grace

appearance

and variety options suitable for various street lighting application

Repirator design to eliminate mist and condensation, make it superior quality

Self-cleanning function to achieve best heat dissipation, make sure excellent performance and long lifespan

Tool-free safety switch,easy for installation and maintenance

Led street light price competitively low.
Installation &Accessories

Application


Outdoor Street Light is for parking lot, street and roadway area,park, ball park, urban roads, industrial areas, residential areas, sidewalks, gas station road security area, garden etc. Let's bring green energy and brightness to life.