Main introduction of slurry pump
Pump body pump cover and over-current components: This series of pumps is a horizontal, vertical medium-sized, double-pump shell structure slurry pump. The pump body and pump cover are equipped with a replaceable metal lining. The lining is made of high-chromium wear-resistant alloy material. The lining can be used until wear-through, extending the maintenance period and reducing operating costs. The pump outlet direction can be rotated and installed at 8 angles.
Bearing assembly: The bearing assembly of the pump adopts a cylindrical structure, which is convenient for adjusting the clearance between the impeller and the front guard plate, and can be completely removed during maintenance. The bearings are greased.
Shaft seal (seal): The shaft seal type of the pump has packing seal, impeller seal and mechanical seal.
Transmission mode: V-type V-belt drive, flexible coupling drive, gear reducer drive, fluid coupling drive, variable frequency drive, thyristor speed control, etc. Among them, the V-shaped V-belt drive has CL, CV, CR, ZL, ZV, ZR transmission.
Overall performance: The pump has a wide performance range, good cavitation performance and high efficiency. Multi-stage series technology can be used to meet long-distance transportation. Overcurrent components are available in a variety of metals and add depth. With a variety of speeds and a variety of variants, the pump operates under optimal industrial and mining conditions. Long service life and high operating efficiency can meet a variety of harsh conveying conditions.
Model meaning
4 / 3 C - AH(R)
4------------Suction diameter(Inch)
3------------Discharge diameter(Inch)
C-----------Support type
AH-------- Pump Model
R-----------Natural Rubber
Specifications
| | |
| --- | --- |
| Pump Model | 4 / 3 C - AH |
| Allowable Max.Power | 30 kw |
| Capacity | 86.4- 198 m³/h |
| Head | 9 - 52 m |
| Speed | 1000 - 2200 r/min |
| Meax.Eff. | 71% |
| NPSH | 4 - 6 m |
| Impeller Diameter | 245 mm |
Centrifugal slurry pump working principle:

1. Before the pump works, the staff must first inject the liquid used for conveying into the pipeline and the pump casing, and fill the two;
2. When the slurry pump is started, the liquid in the impeller will be rotated by the blades of the impeller;
3. Under the action of centrifugal force, the liquid rotates forward and then flows out of the impeller;
4. During the process of flowing the liquid from the impeller inlet to the impeller outlet, the velocity energy and the pressure energy are increased due to the energy conversion, and the liquid flowing out from the impeller is discharged through the pump casing flow passage and then discharged from the discharge pipe;
5. At this time, the impeller inlet is formed by the discharge of water, and the liquid in the suction surface is pressed into the water inlet of the impeller under the action of atmospheric pressure;
6. The rotating impeller continuously draws in and drains water to form a continuous stream of water.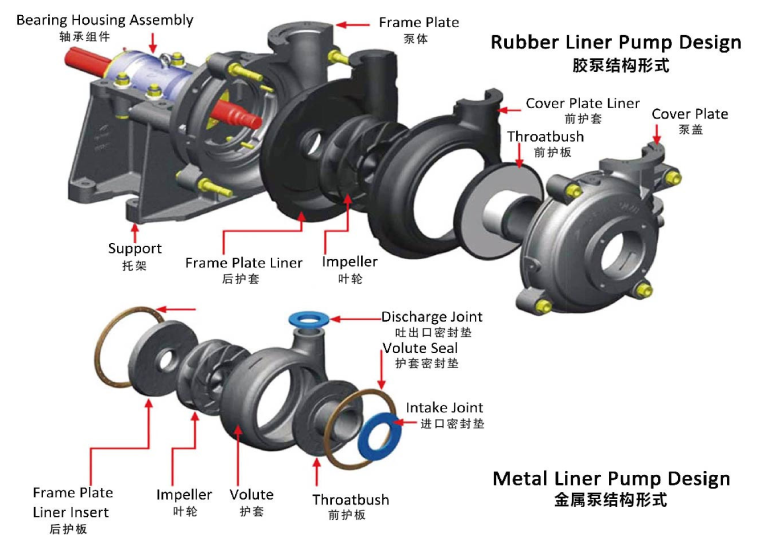 Shaft Seal Module Design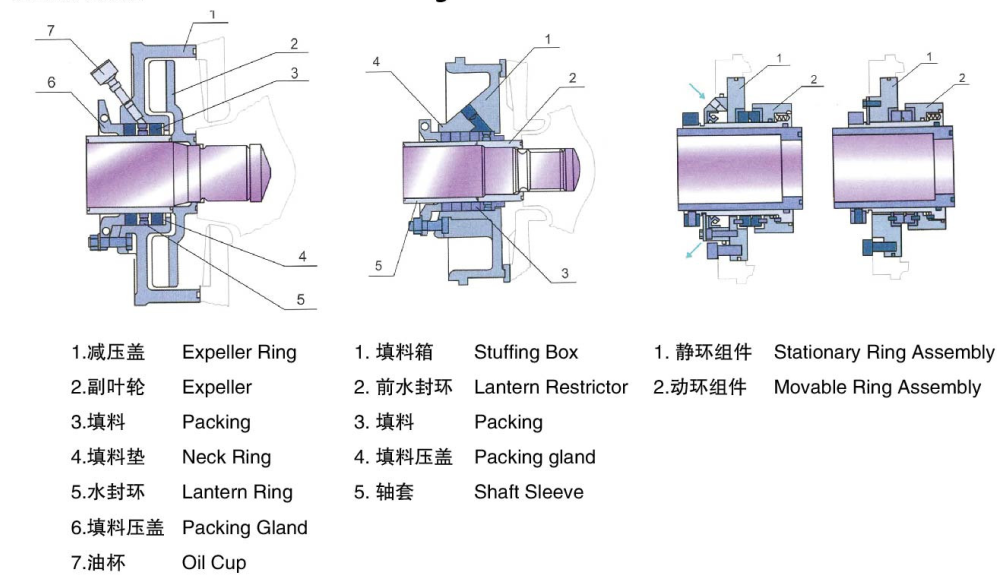 Performance table
MODEL
ALLOWABLE MATING
MAX.POWER
(KW)
MATERIAL
CLEAN WATER PERFORANCE
IMPELLER


LINER
IMPELLER
Q Capacity
H Head
Speed
Max. Eff.
NPSH
VANES NO.
IMPELLER DIA


m3/h
L/s
(m)
n(r/min)
(%)
(m)


(mm)


1.5/1B-AH
15
M
M
12.6-28.8
3.5-8
6-68
1200-3800
40
2--4
5
152


RU
RU
10.8-25.2
3--7
7-52
1400-3400
30
3


1.5/1C-HH
30
M
M
16.2-34.2
4.5-9.5
25-92
1400-2200
20
2-5.5
5
330


2/1.5B-AH
15
M
M
32.4-72
9--20
6-58
1200-3200
45
3.5-8
5
184


RU
RU
25.2-54
7--15
5.5--41
1000-2600
50
2.5-5
5
178


3/2C-AH
30
M
M
39.6-86.4
11--24
12-64
1300-2700
55
4--6
5
214


RU
RU
36-75.6
10--21
13-46
1300-2300
60
2--4
5
213


3/2D-HH
60
M
M
68.4-136.8
19-38
25-87
850-1400
47
3-7.5
5
457


4/3C-AH
30
M
M
86.4-198
24-55
9-52
1000-2200
71
4--6
5
245


RU
RU
79.2-180
22-50
5-34.5
800-1800
59
3--5


4/3E-HH
120
M
M
126-252
35-70
12-97
600-1400
50
2--5
5
508


6/4D-AH
60
M
M
162-360
45-100
12-56
800-1550
65
5--8
5
365


RU
RU
144-324
40-90
12-45
800-1350
65
3--5
5
365


6/4S-HH
560
M
M
324-720
90-200
30-118
600-1000
64
3-8
5
711


8/6S-HH
560
M
M
468-1008
130-280
20-94
500-1000
65
4-12
5
711


8/6R-AH
300
M
M
360-828
100-230
10-61
500-1140
72
2-9
5
510


RU
RU
324-720
90-200
7-49
400-1000
65
5-10
5
510


10/8E-M
120
M
M
666-1440
185-400
14-60
600-1100
73
4-10
5
549


10/8ST-AH
560
M
M
612-1368
170-380
11-61
400-850
71
4-10
5
686


RU
RU
540-1118
150-330
12-50
400-750
75
4-12


12/10ST-AH
560
M
M
936-1980
260-550
7-68
300-800
82
6
5
762


RU
RU
720-1620
200-450
7-45
300-650
80
2.5-7.5




14/12ST-AH
560
M
M
1260-2772
350-770
13-63
300-600
77
3-8
5
965


RU
RU
1152-2520
320-700
13-44
300-500
79
3-10




16/14TU-AH
1200
M
M
1368-3060
380-850
11-63
250-550
79
4-10
5
1067


20/18TU-AH
1200
M
M
2520-5400
700-1500
13-57
200-400
85
5-10
5
1370