4 Layer High Frequency PCB Built On 2 Cores of 20mil RO4350B with Back Drill for GPS Tracker
(Printed circuit boards are custom-made products, the picture and parameters shown are just for reference)
Hello Everyone,
Warm greetings!
This type of 4 Layer Rogers PCB is built on 2 core of 0.508mm (20mil) RO4350B for the application of GPS tracker. This board, we used back drilling technology to achieve the "blind via". See the stack-up.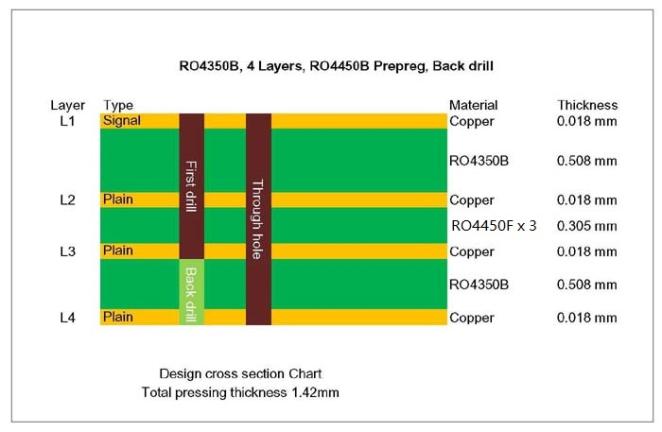 Back drilling can reduce noise interference and improve signal integrity. Using back drilling successfully reduced the difficulty of PCB fabrication and avoided the use of buried /blind via process.
The specifications of the PCB are as follows:
Base material: RO4350B 20 mil + RO4450B 4 mil
Layer count: 4 layers
Type: Mixed multiplier milled separately
Format: 70mm x 125mm = 1 piece
Surface finish: Immersion gold
Copper weight: Outer layer 35 um/ Inner layer 18 um
Solder mask / Legend: Green / white
Final PCB height: 1.42 mm
Standard: IPC 6012 Class 2
Packing: Each 25 panels are packed for shipment.
Lead time: 12 working days
Shelf life: 6 months
Features and benefits
1) Excellent high frequency performance due to low dielectric tolerance and loss;
2) Low thermal coefficient of dielectric constant;
3) Back drilling reducing noise interference;
4) ISO9001, ISO14001, UL certified manufacturing factory;
5) 30000 square meter month capability;
Applications
Multiplexer, Video transmission gear, Low noise block, Power divider
Parameter and data sheet
PCB SIZE
70mm x 125mm = 1 piece
BOARD TYPE
Multlayer PCB
Number of Layers
4 Layers
Surface Mount Components
YES
Through Hole Components
YES
LAYER STACKUP
Copper -----Signal 18um(0.5 oz)+plate TOP layer
RO4350B 0.508 mm
Copper -----Plain 0.018 mm
Prepreg RO4450F X 3, 0.305mm
Copper ----- Plain 0.018 mm
RO4350B 0.508 mm
Copper ------- 18um(0.5oz) + plate

BOT Layer
TECHNOLOGY
 
Minimum Trace and Space:
4 mil / 5 mil
Minimum / Maximum Holes:
0.4 mm / 5.6 mm
Number of Different Holes:
12
Number of Drill Holes:
121
Number of Milled Slots:
0
Number of Internal Cutouts:
NA
Impedance Control:
N/A
Number of Gold finger:
N/A
BOARD MATERIAL
 
Base Material:
RO4350B Tg280 ℃ , er<3.48, Rogers Corp.
Final foil external:

1 oz
Final foil internal:

0.5 oz
Final height of PCB:

1.42 mm ±10%
PLATING AND COATING
 
Surface Finish
Immersion gold
Solder Mask Apply To:

N/A
Solder Mask Color:

N/A
Solder Mask Type:
N/A
CONTOUR/CUTTING
Routing
MARKING
 
Side of Component Legend
N/A
Colour of Component Legend
N/A
Manufacturer Name or Logo:

N/A
VIA
Plated through hole(PTH), minimum size 0.4mm.
FLAMIBILITY RATING
UL 94-V0 Approval MIN.
DIMENSION TOLERANCE
 
Outline dimension:

0.0059"
Board plating:
0.0029"
Drill tolerance:

0.002"
TEST
100% Electrical Test prior shipment
TYPE OF ARTWORK TO BE SUPPLIED
email file, Gerber RS-274-X, PCBDOC etc
SERVICE AREA
Worldwide, Globally.