4 Layer Hybrid PCB Made On 20mil RO4350B and FR-4 for GPS Transceiver
(Printed circuit boards are custom-made products, the picture and parameters shown are just for reference)
Hello everyone,
Continued with last article, today we're going to talk about the 20mil RO4350B and FR-4 mixed.
Most of the situations are that the high frequency material plays the role of signal transmission. Let's see the stack-up.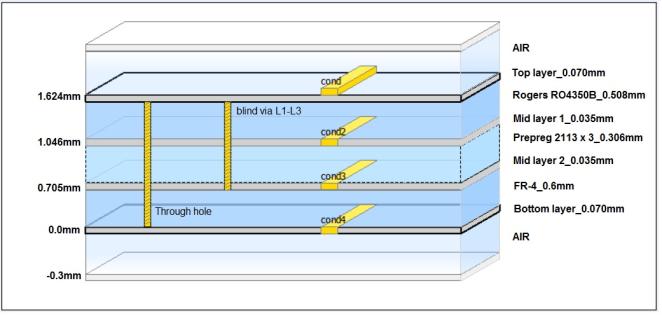 Layer 1 to layer 2 is the core of 20mil (0.508mm) RO4350B high frequency material, the signal transmission lines are on first layer copper, then layer 3 to layer 4 is another core of epoxy glass material. The 2 cores are bonded by a sheet of adhesive (prepreg).
Basic specifications
Base material: RO4350B 0.508 mm + FR4 0.6mm + PP 0.306mm
Layer count: 4 layers
Panel: 75mm x 82mm = 1 type = 1 piece
Surface finish: Immersion gold
Copper weight: Outer layer 70 um/ Inner layer 35 um
Solder mask / Legend: green / white
Final PCB height: 1.6 mm
Standard: IPC 6012 Class 2
Packing: 20 panels are packed for shipment.
Lead time: 10 working days
Shelf life: 6 months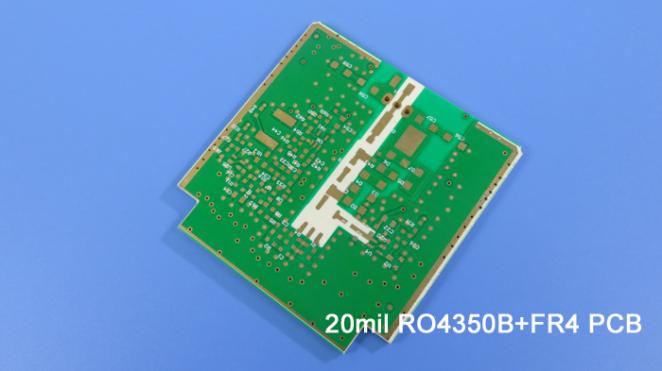 Features and benefits
1) The temperature coefficient of dielectric constant is among the lowest of any circuit board material, making it ideal for temperature sensitive applications;
2) RO4350B exhibits a stable dielectric constant over a broad frequency range. This makes it an ideal substrate for broadband applications;
3) Signal integrity performance improvement over the stack-ups with all FR4 board;
4) ISO9001, ISO14001, IATF16949, UL Certified factory
5) Prototype to mass production capability;
Applications
Mixer, Radar data acquisition converter, Spread spectrum, Duplexer
Parameter and Data Sheet
PCB SIZE
125mm x 125mm = 1 type = 1 piece
BOARD TYPE
Multlayer PCB
Number of Layers
4 Layers
Surface Mount Components
YES
Through Hole Components
YES
LAYER STACKUP
Copper -----Top Layer 0.070mm (2 oz)
RO4350B 0.508 mm
Copper -----Plain 0.035 mm
Prepreg 2113 X 3, 0.306mm
Copper -----Plain 0.035 mm
FR-4 0.6mm
Copper ------- Bottom Layer 0.070mm (2oz)
TECHNOLOGY
 
Minimum Trace and Space:
5.5 mil / 7.2 mil
Minimum / Maximum Holes:
0.4 mm / 5.7 mm
Number of Different Holes:
15
Number of Drill Holes:
172
Number of Milled Slots:
0
Number of Internal Cutouts:
NA
Impedance Control:
N/A
Number of Gold finger:
N/A
BOARD MATERIAL
 
Glass Epoxy:

RO4350B Tg280 ℃ , er<3.48, Rogers Corp.; FR-4 IT158, ITEQ
Final foil external:

2.0 oz
Final foil internal:

1.0 oz
Final height of PCB:

1.6 mm ±10%
PLATING AND COATING
 
Surface Finish
Immersion Gold
Solder Mask Apply To:

Both Top and Bottom sides
Solder Mask Color:

Green
Solder Mask Type:
LPI, Taiyo PSR-2000GT600D
CONTOUR/CUTTING
Routing
MARKING
 
Side of Component Legend
Top and bottom side
Colour of Component Legend
White, IJR-4000 MW300, Taiyo brand
Manufacturer Name or Logo:

Marked on the board in a conductor and leged FREE AREA
VIA
Plated through hole(PTH), minimum size 0.4mm.
FLAMIBILITY RATING
UL 94-V0 Approval MIN.
DIMENSION TOLERANCE
 
Outline dimension:

0.0059"
Board plating:
0.0029"
Drill tolerance:

0.002"
TEST
100% Electrical Test prior shipment
TYPE OF ARTWORK TO BE SUPPLIED
email file, Gerber RS-274-X, PCBDOC etc
SERVICE AREA
Worldwide, Globally.
https://image.ec21.com/company/b/bc/bcc/bcco/img/CA11063630/ED_bcco_20200326115616766.jpg
Why choose us?
1) Focus on your core competencies: We've deeply known it is full of fierce competition for our customers in the market. You can focus on such important competencies as research and development, sales and marketing based on our professional performance and skilled services that exceeding your expectation.
2) Cutting-edge technology: it is rational for a small and medium-sized customer to hanker after the latest equipment and manufacturing expertise for its PCBs. By the partnerships
with Bicheng PCB, you gain access to reach your expectation with our 3 factory bases with over 26,000 square meters.
4) Save the cost of production: Production cost is one of the key points of our customers' product competitiveness. Bicheng PCB have been striving to reduce its manufacturing cost from equipment introduce, worker training and technology improvement to increase their profitability. Customers are satisfied with our cost savings but without quality loss.
5) Avoid hassle: It's an upset matter when quality problem hassling you. Bicheng engineering design prevents problem from occurring in pre-production. You will not get headache with Bicheng prototypes, small orders and volume production. Our rate of customer complaint is less than 1% and will be solved satisfactory.
6) Save time: Market requires the products updating quickly. Bicheng PCB always works fast and flexible to save the time of production from prototype to standard production,
quick turn-around or scheduled deliveries.
7) An excellent team: Bicheng is trustworthy partner with passion, discipline, responsibility and honesty. We have a team of experienced sales persons and skilled customer services. Do not change your supplier. If change is must, Bicheng is the right one for you.
Our PCB Capability

PCB Type:

Hybrid PCB, Mixed PCB

Mixed type:

RO4350B + FR4;




RO4003C + FR4;




F4B + FR4;




RT/duroid5880 + FR4;




RT/duroid5880 + RO4350B

Solder mask:

Green, Red, Blue, Black, Yellow

Layer count:

4 Layer, 6 Layer, Multilayer

Copper weight:

0.5oz (17 µm), 1oz (35µm), 2oz (70µm)

PCB thickness:

1.0-5.0mm

PCB size:

≤400mm X 500mm

Surface finish:

Bare copper, HASL, ENIG, Immersion tin, OSP






Thank you for your reading and you're welcome to contact us for your PCB enquiries.