https://image.ec21.com/company/c/ch/che/cheryl1113/img/CA10935626/ED_cheryl1113_20190408115021850.jpg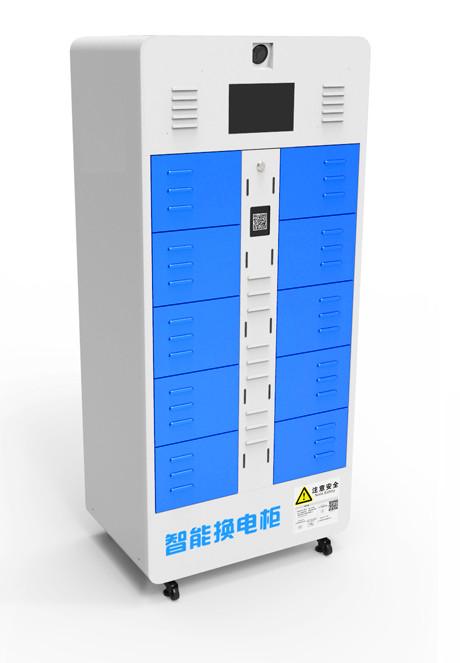 Battery Swap Station, Battery Exchange Cabinet,Battery Charging Cabinet Electric Motocycle,Electric Bicycle,Electric Tricycle,Ebike,E-scooter,Rickshaw
Supply intelligent lithium battery swapping station and battery charging cabinet For e-bike,e-scooter,kick scooter,electric motorcycle,electric tricycle,etc light electric vehicles; lithium battery,power battery,battery with BMS.
Intelligent Battery Charging and Swappping Cabinet Function Specification:
Hardware:
1. Protection Grade IP54.
2. Battery Charging Respectively
3. Power assistance in cabin.
4. Automatic door lock control.
5. Single cabin temperature control system.
6. Thermal detector.
7. Lightning protection electromagnetic pulse.
8. 4G / Wifi communication.
9. Electricity Protection: leakage,overload,short-circuit
Software:
1. Mobile app searching station,replace a new fully charged battery within seconds.
2. Battery BMS communication.
3. Battery charging,voltage and current monitoring.
4. Automatically outage once fully charged.
5. Power cut memory,charging continue when power restoration.
6. Power failure fault alarm.
7. Delayed transaction upon power failure.
8. Real-time monitor charging power in each cabin, power programmable.
9. Control platform calculate electric quantity automatically.
10.Multiple charge type ( times or schedule).
11.Convenient payable through mobile terminal or card.
Optional function:
1. Smoke sensor alarm.
2. Automatic fire suppression system.
3. Touch LCD screen key operation.
4. Video surveillance system.
5. Water line detector.
6. Canopy.
PS.:Size,Color,Configuration,Function Customizable