5 Axis CNC Plasma Pipe Bevel Cutting/Cutter Machines for Sale
Features
1.This 5 axis cnc plasma pipe cutting machine is equipped with professional control system for various types of cuts, including tees, miters, saddles, centerline offsets, multiple intersections, elbow supports, gusset slots; round, rectangular, saw cut, overlapping pipe holes, re-pads with axial offsets and baseline or work point offsets, and other types of intersecting cuts.
2. Precise casting parts and strict manufacture and test procedures ensure high accuracy, reliability, and durability.
3. cnc plasma pipe cutting machines for sale is Integrated with specialized programming and computing modules for complicated large steel structure construction, it can generate CNC codes from Auto CAD drawings to save operators' and engineers' time. And these modules are compatible with IGES, DXF, SAT and STL files.
4. Automatic, servo driven height sensing system compensates vertical position for the out-of-round pipe. In-feed and out-feed conveyors available for loading/unloading.
5.3D operating interface for easy operation.
6. Six CNC axes(Left/Right, Front/Rear, Up/Down, Rotation, Torch-Twisting, Torch-lifting) perform cutting pipe profile.
Technical parameters
name

5 Axis CNC

Plasma pPipe bevel cutting machine

For Sale

pipe diameter

Φ50~Φ300 mm

pipe length

6 m(can be customized)

Work-piece ellipse

≤2%

Number of control axes

5 axes

Torch lift stroke

max.300 mm

Cutting speed

10-2000 mm/min

Moving speed

10-6000 mm/min

Axial swing angel of cutting torch

α=±45°

radial swing angel of cutting torch

β=±45°

Plasma cutting thickness

Upon actual plasma source

Positioning accuracy

±0.2mm

Ambient temperature

-10 º C ~ 45 º C

Ambient Humidity

less than 95%, no condensation.

Power supply

380VAC, 50Hz, fluctuation is less than ± 10%
Cutting Functions: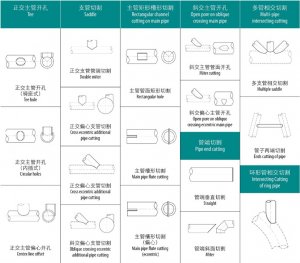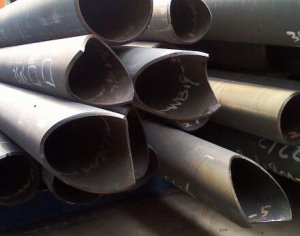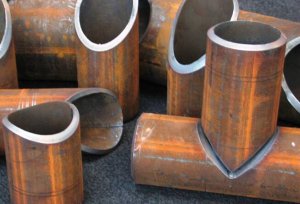 Warranty & After-sale service
1).Quality certificate & honour: CE, FDA, ISO9001
2).One year warranty period from date of shipping date.
3).Maintenance and repair service are available throughout service time;
4).Free training on site is available, if required;
5).24 hours technical support by e-mail, telephone throughout service time;