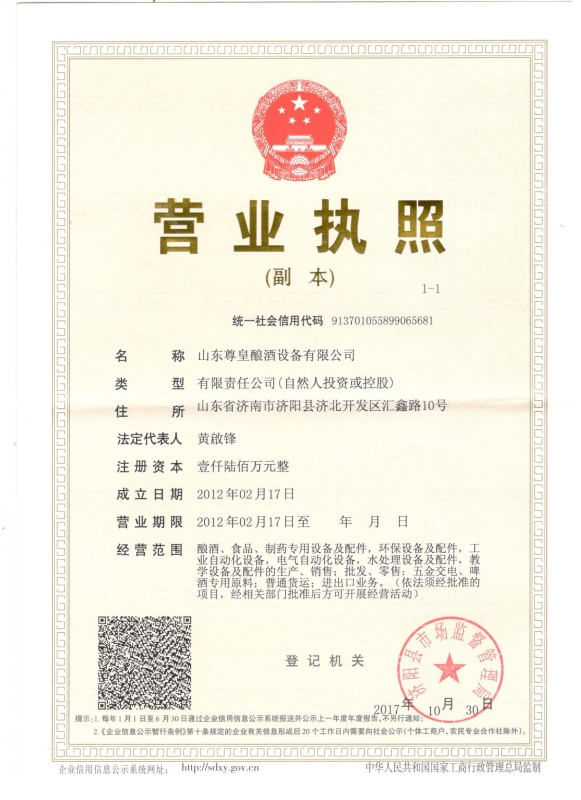 Membership

Free member

Registration Date

2019.01.28

Country/Region

China

City

Jinan

Contact

Fleming Chu(Mr.)
Shandong Zunhuang Company is located in the beautiful Spring city,Jinan. It's a comprehensive, standardized high-tech, enterprise specializing in R&D, manufacturing sales and technical services of beer, fruit wine, liquor, stainless container and other fermentation equipment.
Zunhuang company is divided into manufacturing, business, hotel management three parts, and separated office areas!
Production: the total area of the base is more than 20000 square meters, including workshops of raw materials, blanking, sheet metal, assembly. welding, polishing, process pipes, finished products, etc.
We have modern equipment and mature management system, and have passed the enterprise production standardization acceptance, ISO 9001 :2015 international management system certification, European Union CE certification, D1, D2 level pressure vessel special equipment production license.
Business department: four departments, two centers. International business Department,craft beer business development department, non-standard project development department,after- sales service department; school- enterprise contact center, technology center;
Catering: based on the company's business development needs in 2015, Zunhuang company established Why+M Restaurant Management Company in the 100-year beer capital Qingdao; Through its strong beer culture and humanistic complex, and adhering to the traditional brewing process, Why+M Brewing is brewed with only four raw materials:Water, Hops, Yeast, and Malt, Ingenious brewing. A one-stop industrial chain for catering on-site tasting experience and craft beer R&D, production and sales. It has laid a solid foundation for the promotion, franchise and brewing of the brand of Zunhuang.