75kw Mining Equipment Symons Cone Crusher Price
Brief Introduction of Symons Cone Crusher:
Symons cone crusher is a kind of secure crusher, currently widely used in the world, with the characteristics of high quality, fine products, even size, long service life, and high efficiency. Cone Crusher developed by Zoneding has been experienced the optimized improvement so that Symons Cone Crusher features perfect reasonable structure, more advanced technology and have the excellent performance in the manufacturing, installation, and maintenance. Mining Cone Crusher has been widely applied in the field of mining industry, metallurgical industry, chemical industry, and silicate industry, etc.
Features of Symons Cone Crusher:
1. Big crushing ratio and high efficiency.
2. Perfect lubricating device ensures reliable functions of machine.
3. Wearing parts of high quality lowers cost efficiently.
4. Long life and used widely.
Technical Parameters of Symons Cone Crusher:
Model
Chamber type
Diameter of crushing cone (mm)
Max. feed size (mm)
Discharge range (mm)
Capacity (t/h)
Power (KW)
Weight (t)
Overall dimension (L×W×H) (mm)
3`
Standard fine type
914
85
9-22
45-91
75
9.98
2656×1636×2241
Standard coarse type
150
13-38
59-163
Standard extra coarse type
150
25-38
118-163
Short-head fine type
35
3-13
27-90
10.53
Short-head medium type
65
3-16
27-100
Short-head coarse type
85
6-19
59-129
The Working Site of Symons Cone Crusher: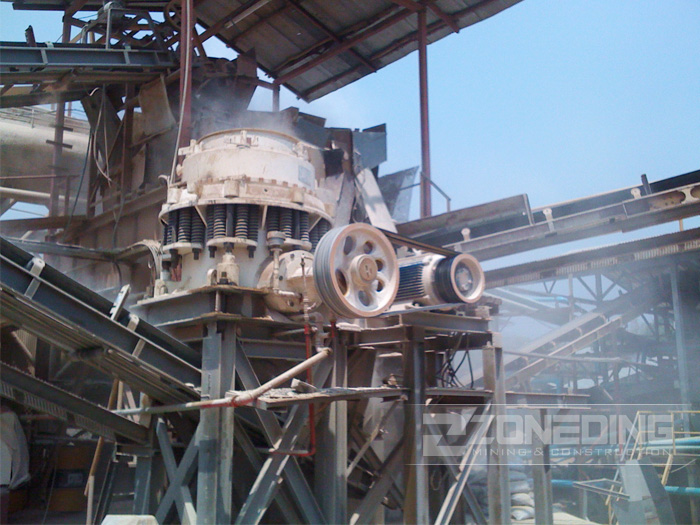 http://www.zonedingmac.com