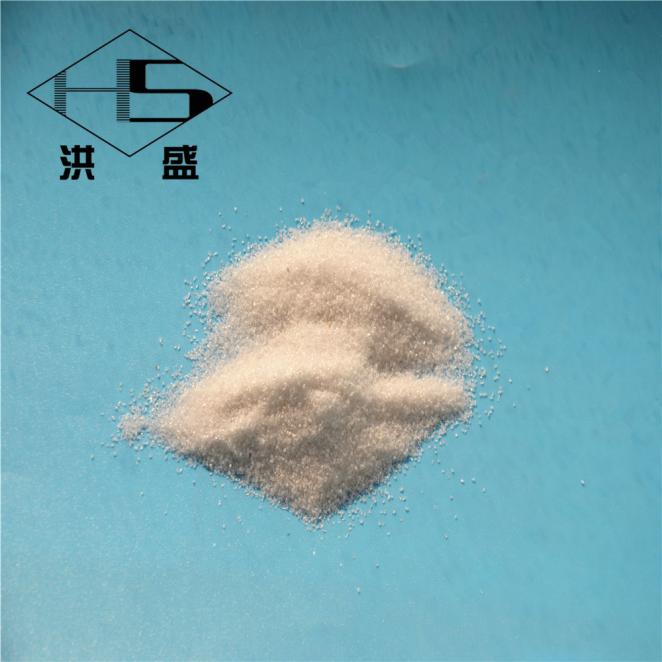 White corundum is a white abrasive made from industrial alumina powder (Al2O3) with a content of over 98% and a small amount of iron oxide and silicon oxide. It is a white abrasive which is melted at high temperature. Its hardness is slightly higher than that of brown corundum and its toughness is slightly lower. It is made by smelting and cooling above 2000 degrees in arc, grinding and shaping, removing iron by magnetic separation, and sieving into many kinds of granularity. It is compact in texture, high in hardness and sharp in shape. It is suitable for making ceramics, resin-bonded abrasives, grinding, polishing, sandblasting, precision casting (corundum for precision casting), etc. Manufacture of high-grade refractories, code name "WA" in the international common standards, national standards consistent, most for export, but also a certain amount of supply to domestic users.
The product size is produced according to international standards and national standards, and can be processed according to user requirements. The general size is F4~F220 and w63-w2.5 has different chemical composition depending on the particle size. The prominent feature is that the crystal size is small and impact-resistant, if the grinding machine is used to break, the particles are mostly spherical particles, the surface is clean and easy to bind.
Use:
The abrasive tools made of white corundum are suitable for grinding high carbon steel, plateau steel, high speed steel and quenched steel with harder and stronger tensile strength. It is suitable for solid structure and coated abrasive tools, wet or dry jet sand, ultra-fine grinding and polishing suitable for crystal and electronic industries and making high-grade refractories.
It can also be used as grinding and polishing materials, precision casting sand, spraying materials, chemical catalyst carrier, special ceramics, advanced refractories, etc. It is characterized by strong cutting force, good chemical stability and good insulation.
Applicable industries:
Bearing industry
1. It is suitable for quick removal of oxide scales on the surface of bearing rings after heat treatment.
2. It is suitable for the deburring and polishing of stamping and combined iron retainers. For copper holders, the finishing process completely replaces the original pickling process. Chamfering, deburring and polishing not only improve the product quality, but also improve the working environment, in line with the national environmental protection requirements.
3. It is suitable for surface polishing of bearing cylindrical roller, tapered roller, spherical roller and needle roller, greatly improving the surface roughness and brightness.
Auto parts industry
1. It is suitable for chamfering and deburring of various automobile stamping parts, gears, die-casting aluminum shell parts, copper castings, crankshafts and camshafts.
2. It is suitable for surface polishing of various piston couples, oil delivery valve couples, piston rings, crankshafts and camshafts of various automotive engines, diesel engines and fuel injection pumps.
Powder industry:
1. It is suitable for chamfering, deburring and polishing of all kinds of powder metallurgy (including NdFeB) materials.
Minting industry:
1. It is suitable for the polishing of gold coins, silver coins and alloy coins made in various sizes in the mint industry.
Hardware industry:
1, suitable for all kinds of metal stamping parts such as industrial sprocket, chain and other parts of the chamfer, deburring, polishing.
Textile industry:
1. Suitable for chamfering, deburring and polishing of various parts in contact with spinning yarn and cloth on various textile machines.
Aero engine industry:
1, suitable for aircraft engine blades, bevel, burr, polishing.
Jewelry industry:
1. It is suitable for polishing all kinds of gold, silver, platinum, alloy and gem jewelry.
Medical apparatus and instruments:
1. It is suitable for chamfering, deburring and polishing of all kinds of stainless steel and alloy steel medical devices.
Such as medical surgical instruments, endoscopic parts, artificial cobalt alloy joints, artificial table gold heart valves, needles, syringes.
Electrical components:
1. It is suitable for chamfering, deburring and polishing of all kinds of relay copper parts, silver and Taiwan gold contacts.
Die casting industry:
1, bicycle handle, riser, and all kinds of zinc, gold and aluminum alloy running pieces, deburring and polishing
2. Glasses industry, spectacle frames and spectacle frames