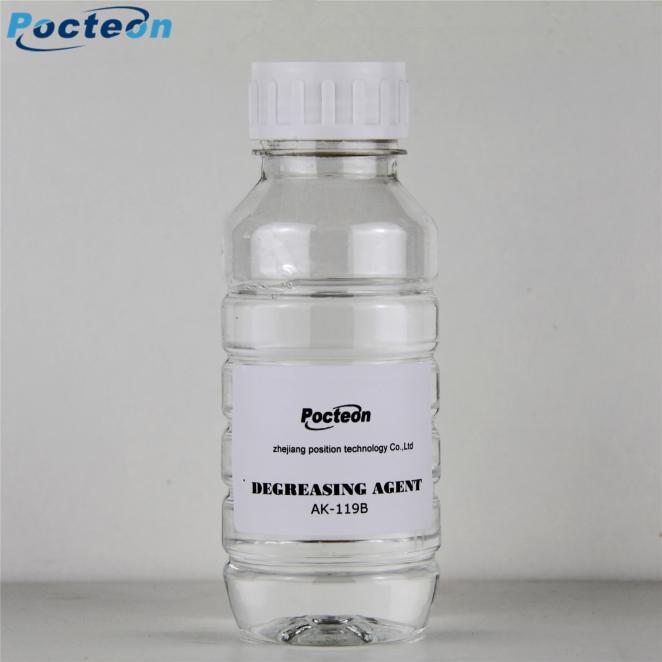 DEGREASING AGENT AK-119B
[Introduction]
Degreasing agent AK-119B is a kind of multi-use textile auxiliary agent with excellent ability to extract, emulsify and disperse on oils (general kind of oils and Silicone Oils for Spandex spinning) and waxiness. Degreasing agent AK-119B is stable at 140 ℃ and can prevent and remove oligomer made by polyester fiber in dyeing and printing process. It can also avoid color spots and white spots. Degreasing agent AK-119B can be used in the same bath scouring dyeing with disperse dyes to shorten the process and effectively improve the production efficiency.
[Physical and chemical property]
External view: White transparent liquid
PH value: 5-7
Stability: Strong alkali resistance, high temperature resistance, oxidation resistance
Solubility: high solubility in water
Ionicity: Anionic/Nonionic
[Special performance]
1. It has a unique effect on the fabric containing spandex.
2. The process of cleaning and dyeing of chemical fiber fabric in the mean time is possible, saving time and steam.
3. Remove fabric surface stains and oil stains, and keep the stains suspended to avoid further contamination.
4. Avoid the accumulation of oligomer when polyester is treated by high temperature dyeing machine and it has good dispersibility.
[Technology application]
Degreasing agent AK-119B is a multipurpose textile chemical agent and can be widely used in pretreatment and dyeing process.
1. Chemical fiber polyester nylon oil removal process.
Deoiling / dyeing process for standard scale polyester dyeing.
A. The dyeing machine infuses water and runs for 3-5 minutes to remove water soluble and emulsifiable substances and then run the water off.
B. Set the pH value of dyeing bath 5-5.5, add the necessary chelating agent and antifoaming agent.
C. Heat up to 40 °C and add Degreasing agent AK-119B.
D. Heat up to 60 °C and add dye.
After running, it is heated to 125-130 °C for coloring.