Parameters/specifications
Introduce (ALPA Ultrafine Dry Grinding Machine Fluidized Bed Air Jet Mill Production Line in China)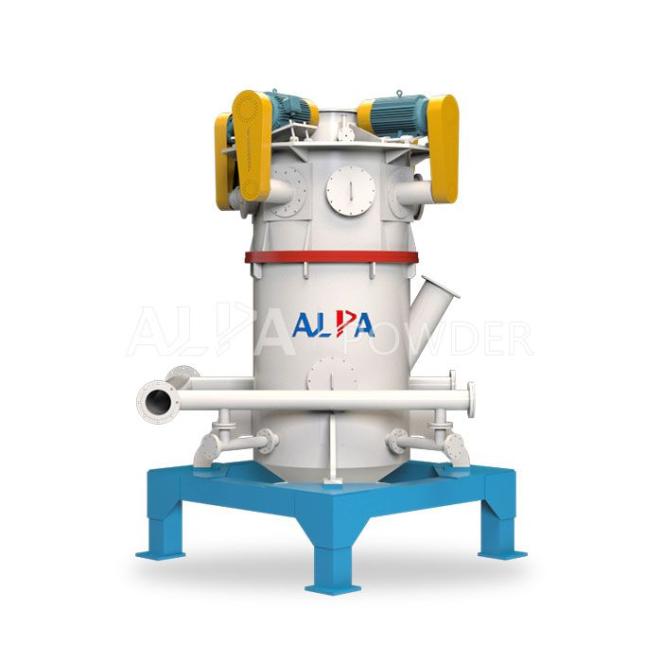 Features and Advantages:
-Available particle size D50:1-25μm.
-Good particle shape, narrow particle size distribution.
-Speed of wheel is controlled by converter, particle size can be adjusted freely.
-Ultrafine powder product is stable and reliable.
-The jet mill is suitable for dry grinding of various materials with Moh's hardness below 9, especially for the materials with high hardness, high purity and high added value.
-Constant temperature or low temperature, medium-free grinding,especially suitable for materials of heat sensitive, low melting point, sugary, volatile nature.
-The world's leading high-precision classifier rotor with line speeds up to 80m/s, ensuring high precision for product requirements.
-The grinding process is completed by the collision of the materials themselves., Fully self-grinding, So The device is durable and the purity of products is high in contrast.
-High energy utilization rate, promote material flow, improve powder screening efficiency.
-Key parts like inner liner, classifying wheel and nozzle are made of ceramic such as aluminum oxide, zirconium oxide or siliconcarbide, ensuring non-contact with metal throughout the grinding for high purity of the final product.
-The classifying wheel separates the material automatically with airflow, no coarse particles.
-Grinding is in closed system, low dust and noise, clean and environmentally friendly production process.
-PLC control system, easy operation.
-The motor can be connected with belt to increase the speed and break through the problem of high-speed motors without the well-known motor brand.
-Can be used in series with multi-stage classifiers to produce products with multiple sizes at one time.
-Weighing control system, high precision, optional, high product stability.
-Optional explosion-proof design, can also be upgraded to nitrogen circulation system to meet the ultra-fine grinding processing requirements of flammable and explosive oxide materials.
Working Principle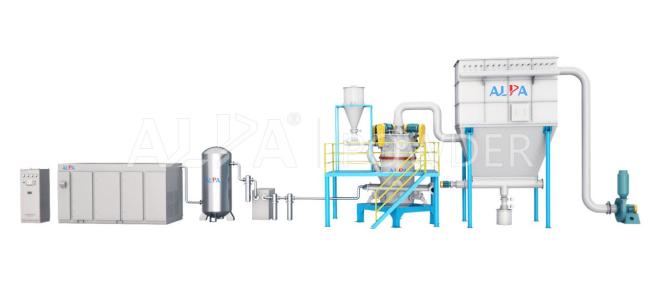 Fluidized(Fluidised) bed opposed jet mill works with cyclone separator, dust collector and suction fan to form a complete grinding system.
Compressed air flow after filtration and drying would go into milling chamber from nozzles, and meet in the center area, where material would be impacted and ground and sheared.
Milled powder would go up to the classifying chamber by the air flow from suction fan.
The high-speed rotation of classifier wheel would create a strong centrifugal force to separate coarse powder and fine powder.
Qualified fine powder would go through the wheel vane then into the cyclone separator or dust collector, while mixture of coarse powder and fine powder would fall down to the milling chamber to be milled again.
| | | | | | | | |
| --- | --- | --- | --- | --- | --- | --- | --- |
| Parameters/specifications | MQW03 | MQW06 | MQW10 | MQW20 | MQW40 | MQW60 | MQW120 |
| Feed Size(mm) | <3 | <3 | <3 | <3 | <3 | <3 | <3 |
| Product Size(d97:um) | 2~45 | 2~45 | 2~45 | 2~45 | 2~45 | 2~45 | 2~45 |
| Production Capacity(kg/h) | 2~30 | 30~200 | 50~500 | 100~1000 | 200~2500 | 500~3500 | 800~7500 |
| Air consumption(m3/min) | 3 | 6 | 10 | 20 | 40 | 60 | 120 |
| Air Pressure(Mpa) | 0.7~0.85 | 0.7~0.85 | 0.7~0.85 | 0.7~0.85 | 0.7~0.85 | 0.7~0.85 | 0.7~0.85 |
| Installed Power(kw) | 21 | 42 | 85 | 147 | 282 | 415 | 800 |