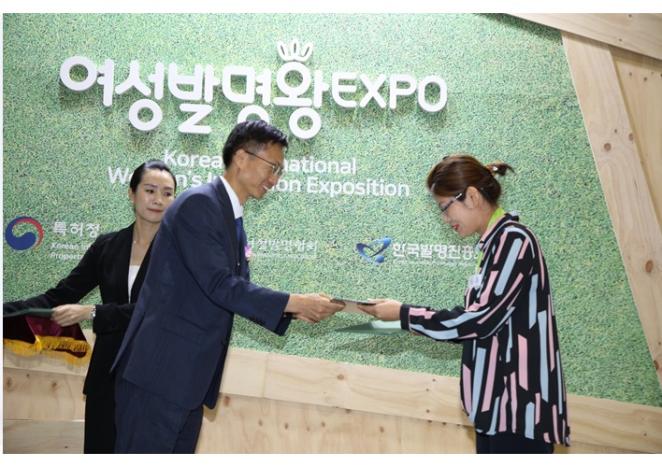 Semi Grand Prize Award at 2018 Korean Inventions Patent Expo
AMOBABY Silicon Balloon Feeding Bottle 200mL+ with Air Pump(White) 112W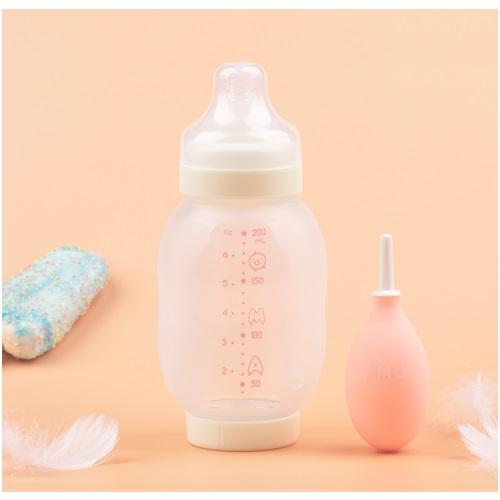 How to put and remove air from the silicon cover of a silicon balloon feeding bottle.
The proper temperature of the formula during feeding is 38 degrees. The layer of air inside the silicone balloon of unique to this product maintains the warmth of the formula which minimizes formula temperature reduction during feeding compared to other bottles.

In fact, It was found that the temperature remained 5 to 7 degrees Celsius higher after 25 to 30 minutes compared to normal plastic bottles.
With a natural and lifelike feel, Causes baby to use his/her fingers which promotes IQ development! Many researches and academic reports state that getting plenty finger exercise during baby's first year of life has a positive impact on IQ as the brain becomes more developed.

"30% of nerve cells are mobilized to move these tiny hands.
This is why it's extremely important to perform precise movements of the hands.
If we move our hands in precise ways, do arts and crafts, etc. then this is extremely beneficial for brain development."

- Prof. Yuhyeon Seo (Director, Neuroscience Research Institute, Seoul National University)
Due to the lifelike feeling, the baby is naturally induced to touch the bottle, which reduces the time it takes for the baby to hold and take charge of the bottle him/herself.
Also, after feeding is complete, the baby will spend more time playing with and becoming familiar with the bottle which will also help reduce the time until the baby can feed him/herself.
The best way to sterilize is to wash and dry with sterilizing detergent (99.9% sterilization) for milk bottles.
But if you want to sterilize with hot water, sterilize it using the video method.
Silicon balloon never explode.
Because silicon forms tissue that has a net structure.
Use it with ease.
Silicon balloon feeding bottle is on the display at Lotte Mart's Infant-childern Corner NEW.
You can buy Silicon balloon feeding bottles at Lotte Mart.
롯데마트 실리콘풍선젖병 입점(It is on sale at Lotte Mart in Korea)
유아용품 유아동코너 젖병코너에서 볼 수 있습니다

롯데마트1차 납품점(20개)
테스트 매장 성공
(서울) 청량리 양평 중계
(인천) 부평 부평역 삼산
(수원) 광교
(경기) 안성
(전북) 군산 익산
(광주) 첨단 수완 월드컵
(경남) 울산진장 김해장유 마산양덕
(충북) 충주
(충남) 청주 천안성정
(강원) 춘천

롯데마트 2차추가 납품점(22개 확대)
(경기남부) 오산점
(인천) 송도점 검단점 영종도점 시흥배곶점
계양점
(경기북부) 동두천점
(부산) 금정점 동래점 사하점 광복점
(대구) 월하점
(대전) 대덕 노은
(충남) 서산
(전남) 여수 여천 목포
(강원) 원주
(경북) 김천
(전북) 전주송천
(경남) 통영
Silicon balloon feeding bottles Interview with Korean Intellectual Property Office Broadcasting