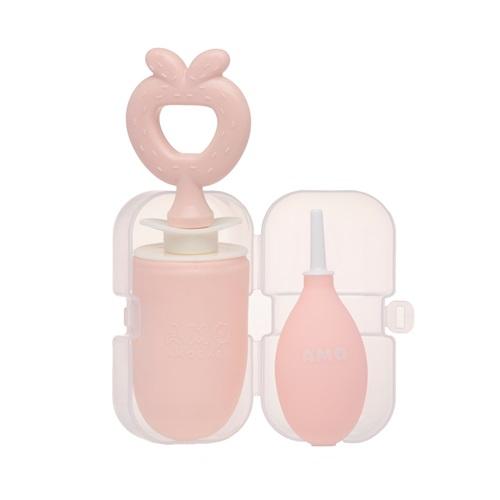 Silicon Balloon Teether White NO. 411P
Silicon Balloon Pacifier is the world's first patented product.
As you can see in the video, the baby is bitten by moving around the silicon nipple instead of staying in one place.
Therefore, the balanced development of the teeth is achieved.
In addition, it reduces the risk of middle ear infections.
* 실리콘풍선 치아발육기 소독방법
물이 끓으면 불을 끄고 10~30초 살균하는 경우에는 실리콘 특성상 습기를 머금을 수 있어 바로 건조기에 넣어 건조 후 사용하시면 실리콘 풍선의 사용기간을 연장시킬 수 있습니다.
자외선 살균 건조기를 사용하실 경우 40°C ~ 100°C 이하로 설정하여 사용해 주세요.
보관케이스와 공기주입기는 무해한 소재로 열탕소독시 제품 형태의 변형이 있을 수 있어 젖병전용살균세정제로 세정하여주세요.
* シリコン風船歯発育器 消毒方法
水が沸いたら火を消して10~30秒殺菌するときにはシリコンの特性上、湿気を含むことがありますので、すぐに乾燥器に入れて乾燥後ご使用いただければシリコン風船の使用期間を伸ばすことができます。
.紫外線殺菌乾燥器をご使用になる場合、40°C ~ 100°C以下に設定してご使用ください。
.保管ケースの場合、無害なポリプロピレン(PP)素材で熱湯消毒時、製品の形が変形することがありますので、哺乳瓶専用殺菌洗浄剤で洗浄してください。
* Method for disinfection of Silicon Balloon Teether
When water boils, turn off the heat and sterilize for 10~30 seconds, then immediately dry it inside the dryer as the silicon may hold moisture, and elongate the usage time.
Set the temperature below 40°C ~ 100°C when using ultraviolet ray sterilization dryer.
Case is made of harmless polypropylene (PP) and can modify in form when scalded; Clean with bottle cleaner only.
* Amo Baby가 사용하는 고인장 실리콘풍선은 그물망 조직구조로 되어있어 강한충격이나 날카로운 물질에 접촉이 되어도 고무 풍선같이 펑 터지지 않고 서서히 공기가 빠지도록 되어있어 안전하며, 인장력이 강한 재료를 사용하여 잘 찢어지지 않도록 개발되어 아기가 물어도 잘 훼손되지 않도록 품질을 향상 시켰습니다.
* Amo Babyが使用する高引張シリコン風船は網組織構造になっており、強い衝撃や鋭い物質に接触してもゴム風船のようにバンとさく烈せずに、徐々に空気が抜けるようになっていて安全であり、引っ張る力が強い材料を使い簡単に裂けないように開発されており、赤ちゃんが噛んでも簡単に毀損しないように品質を向上させました。
* Amo Baby's high-tension silicon balloon is in a net structure that does not pop immediately like balloons when in contact with strong impact or sharp substances, but gradually deflates, which is safer, and it uses highly sealable materials that do not rip off easily, so that it is resistant to baby's biting and therefore, has improved quality.