AQUAMATE Cool Scarf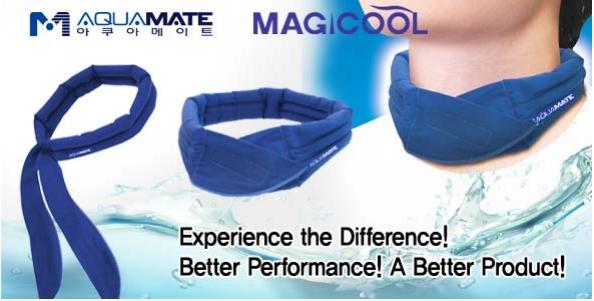 Conveniently designed for various outdoor and leisure activities, AQUAMATE Cool Scarf brings you coolness anytime and anywhere.
When dipped into cold water, AQUAMATE Cool Scarf expands by absorbing and trapping the water. Together with the coolness of the water itself and also
the natural evaporation of the trapped water, AQUAMATE Cool Scarf becomes a mobile cooling system providing continuous coolness in hot environments.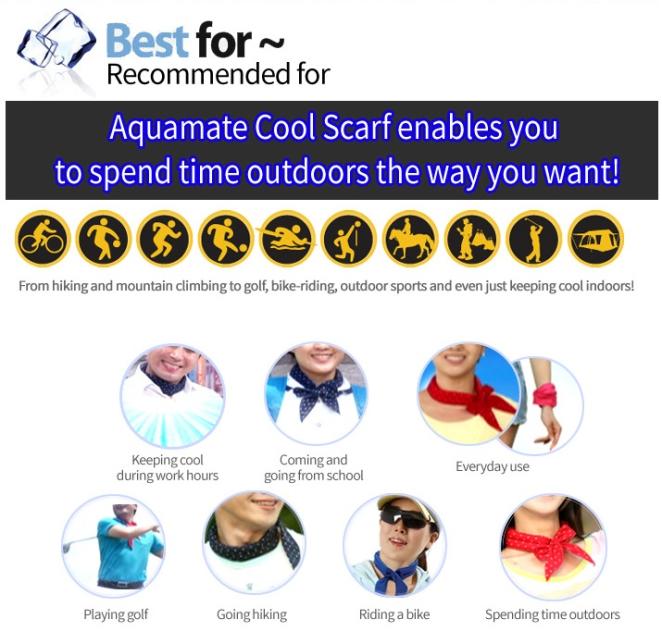 Proven by Quality & Performance to be a Better Product!!
Over 8.5 Million sold in Japan! (Brand "MAGICOOL")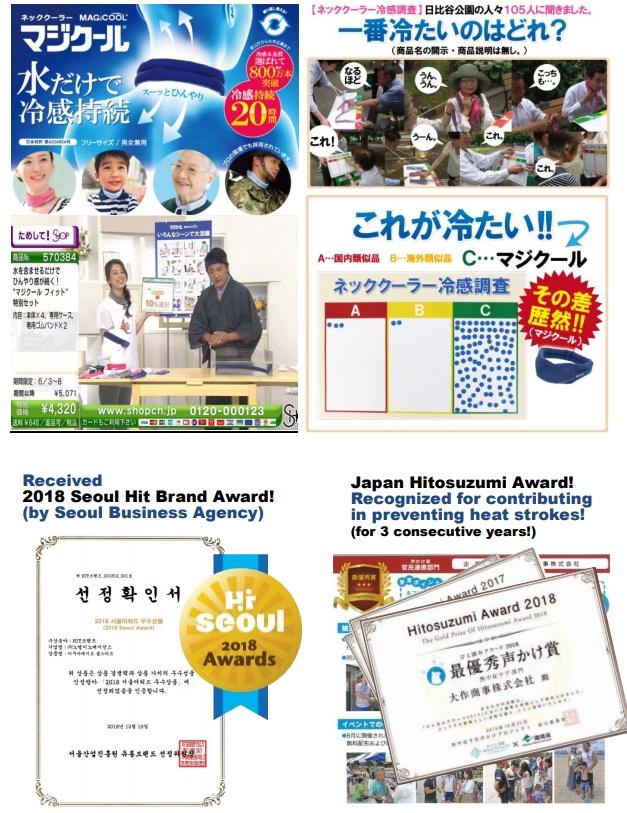 Product Specifications
AQUAMATE Cool Scarf is available in two different models.
"Velcro" type and "Button Hole" type.

Velcro Type
Easy & Convenient! Comfortable Fit!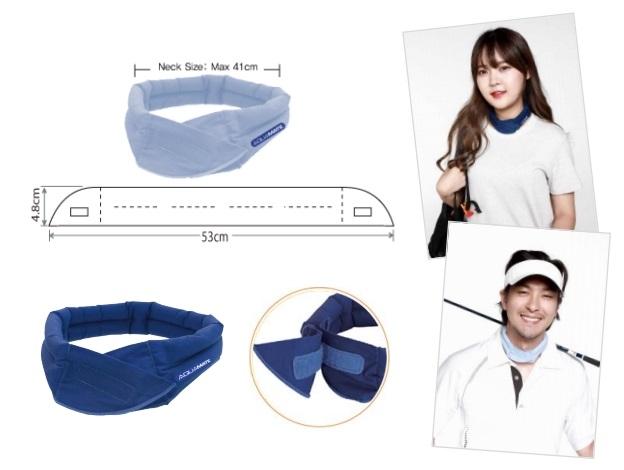 Button Hole Type
Free size for everyone!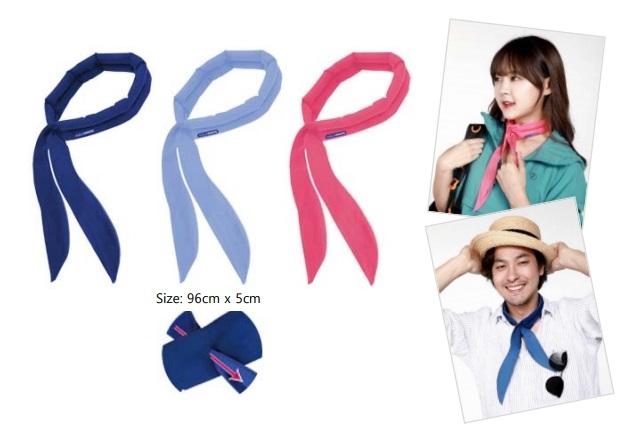 Standard Package
Clear OPP + Paper Insert Card + Scarf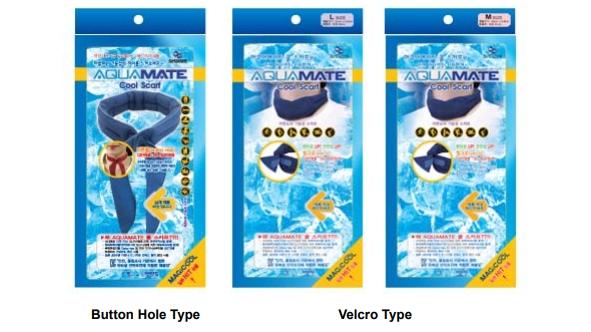 OEM Production & OEM Examples
If satisfying the required MOQ, private labeling and, customized fabric pattern and
package are possible. (MOQ differs by the different specifications.)
1. Private Labeling
Private labeling is possible by printing desired logos on to the scarf.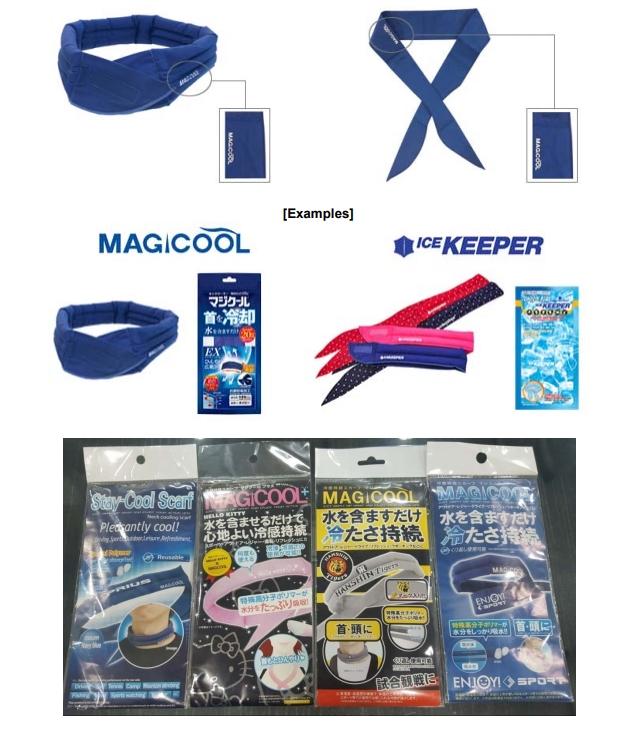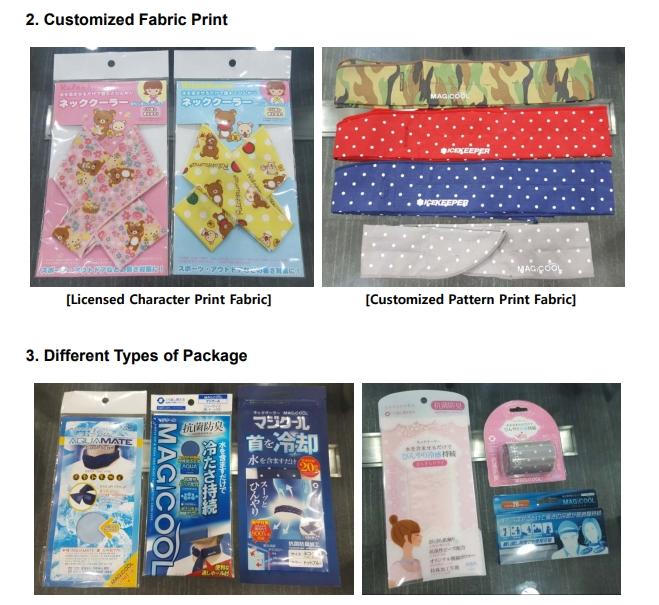 Product Quality
To ensure optimum quality and reliability, AQUAMATE Cool Scarf is made only with certified materials.

Production
For efficient quality management, all products are 100% made in Korea from our own factory exclusively for the production of AQUAMATE Cool Scarf.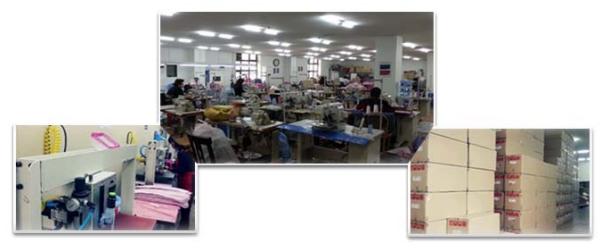 Instructions of Use
1. Dip the scarf in cold water for 1 minute. AQUAMATE Cool Scarf will start absorbing water and expand. If the particles inside the scarf expand only in partial areas, evenly spread the expansion by pushing gently with hands.
2. After the scarf has fully expanded, wipe off the excessive water on the surface and wear the scarf around the neck or where desired.
3. Extra coolness can be acquired by using the scarf after keeping it in a refrigerator or an icebox.
4. If coolness decreases due to continuous body heat, take off and expose to air to cool down the scarf for a short period of time.
5. If the expansion of the scarf decreases considerably after a certain time of continuous usage, simply apply more water. AQUAMATE Cool Scarf can be repeatedly used by completely drying it after each use.