Product Description
Physical and chemical properties of Paclobutrazol
1.The pure product is a white crystalline solid; relative density is 1.22; the melting point was 165 ~ 166 °C; vapor pressure (20 °C) is 1 × l0-6Pa, 20 °C for 0.1Pa, (30 °C) is 8 × 10-6Pa. 20 °C
2. Solubility: acetone 110g/L, 150g/L of methanol, hexane dichloromethane 100g/L, 10g/L, 180g/L xylene cyclohexanone, 60g/L, water 35mg/L. The distribution coefficient (octanol / water) 1590.
3. The pure product at 50 °C stable within 6 months. On the UV stable. Stable water solution of more than 30d at room temperature. The diluent does not hydrolyze or degrade in the condition of uv light and the PH 4-9 range..
Detailed Images
1) It used on fruit trees to inhibit vegetative growth and to improve fruit set; on pot-grown ornamentals and flower crops (e.g. chrysanthemums, begonias, freesias, poinsettias and bulbs) to inhibit growth.
2) It used on rice to increase tillering, reduce lodging, and increase yield; on turf to retard growth; and on grass seed crops to reduce height and prevent lodging.
3) It used to be applied as a foliar spray, as a soil drench, or by trunk injection. Has some fungicidal activity against mildew and rusts.
4) It taken up into the xylem through the leaves, stems, or roots, and translocated to growing sub-apical meristems. Produces more compact plants and enhances flowering and fruiting.
Specifications
| | | | |
| --- | --- | --- | --- |
| Name | Specification | Brand | Material |
| Paclobutrazol | Technical Grade | Quanfeng | 95% 90% TC |
| Paclobutrazol | Wettable Powder | Quanfeng | 50% 30% 15% SP |
| Paclobutrazol | Suspending Agent | Quanfeng | 30% 15% SC |
| Paclobutrazol | | Quanfeng | Can be customized |
Product Packing
Fast transport way with small quantity for sample.
Economical way with large quantity for formal order.
Certification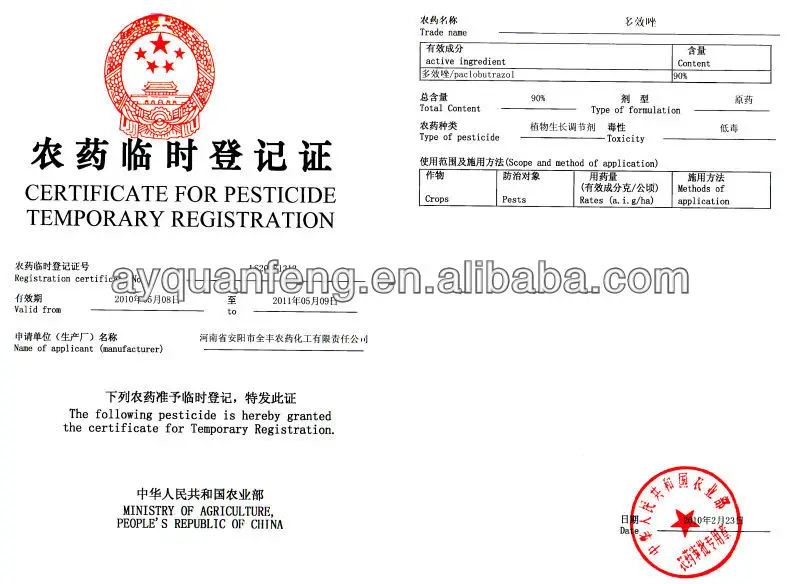 CERTIFICATE FOR PESTICIDE REGISTRATION CERTIFICATION OF OCCUPATIONAL HEALTH AND SAFETY MANAGEMENT SYSTEM
Why Choose Us
Anyang Quanfeng Biological Technology Co., Ltd
Quanfeng has the original drug companies, pharmaceutical companies, aviation plant protection companies and many other subsidiaries.
The main products include plant growth regulator, compound fertilizer, agricultural unmanned aerial vehicles and total five categories products.