Air Cleaner (DYN-C100)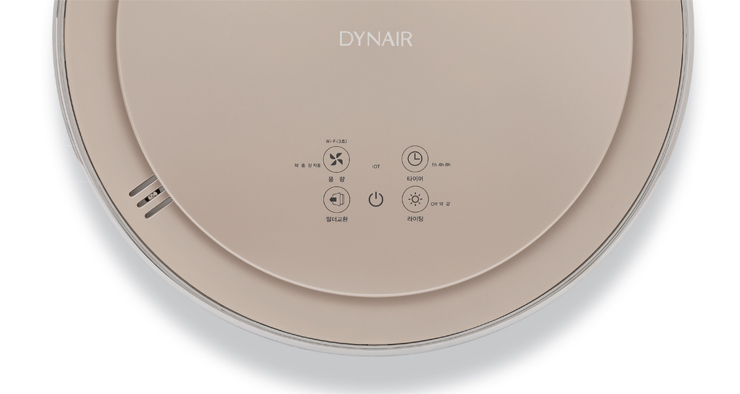 AIR INTELLIGENCE
It is a decorative unique and slim design that considers usability.
The classy and slim design does not occupy the indoor space, so it harmonizes naturally with the surrounding interior. From an erayou care for the air to an era air cares for you, it purifies the air quality and makes breathing comfortable for every moment.

SPECIFICATION
Product name
Air Cleaner
Products detail
DYN-C100
Size(mm)
Wall mounted type : 430 x 430 x 192mm
Stand type : 430 x 435 x 227mm
Weight(kg)
W : 5.8kg, S : 5.9kg
Distributor
DYNAIR KOREA Co., Ltd.
Manufacturer
Gwangwon ENG Co., Ltd.
FULL COLOR DISPLAY WITH SOFT BRIGHTNESS
As lighting that changes in three levels depending on the cleaniless, the prominent LED illuminates the space gently as well as cleanliness check.

Round design for DYNAIR only
Round design of DYNAIR air cleaner was created with the motive of Eclipse.
Eclipse, called as 'annular eclipse', has a speciality that cannot be easily experienced.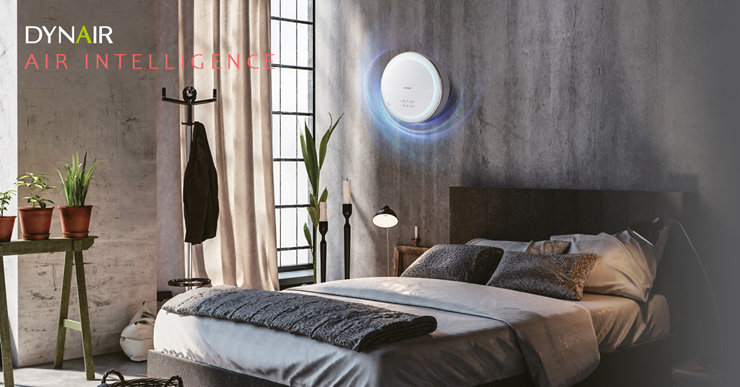 Easy control with smart phone
Control your home air condition from outside with the smart IOT function.

Aircondition check
Anytime, anywhere, air quality in the house, such as total cleanliness, dust concentration, and odor, is checked.

Bad air condition, filter replacement alarm
When the air in the house is bad or when it is time to replace the filter, it can be easily and conveniently managed with the smart phone alarm in advance.

In addition, it provides variou controls and functions such as driving, stopping, and wind speed.
Icon
There are fi ve control operation buttons in total, the unnecessary ones are boldly deleted and only the essential functions are equipped. It consists of air volume control, timer, fi lter replacement, lighting, IOT and in case of an IOT, cleanliness can be checked at a glance by using a smart phone. It provides a convenient system that can be remotely controlled from a distant location outside the home.
Timer
4 level timer is 1hr, 4hr, 8hr
Filter replacement
When the time of replacement, lighting is automatically indicated.
IOT function
Smart remote control
Air volume
4 level air volume is low, mid, high, auto
Lighting
Adjustable low, high lighting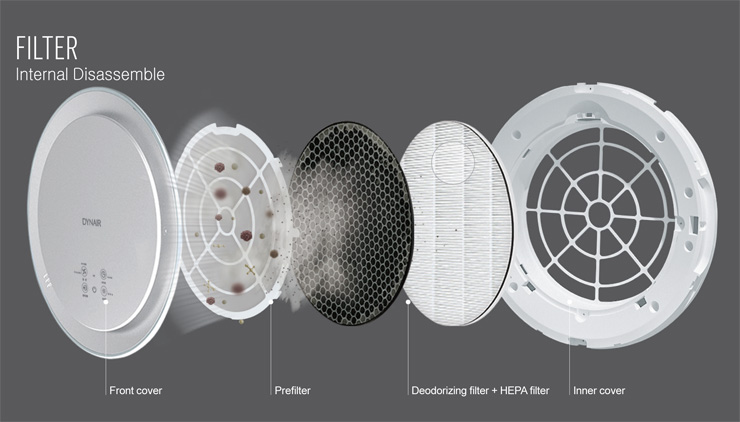 Prefilter
Large dust removal filter
it plays a role as removing common visible dust easily. It blocks living dust with large particles in the air, lint, animal hair, pollen, etc. perfectly.
Deodorizing Filter
Total harmful gas fi lter
An activated carbon fi lter with a large amount of fi ne pores removes toxic gases, harmful gases, and odors generated from paint, leather, furniture completely.
HEPA Filter
H13th grade true HEPA fi lter
The high-performance pleat type HEPA fi lter blocks over 99.95% of fi ne dust particles perfectly. it is excellent for removing ultra fi ne dust as well as cigarette smoke.
Air Clean Sensor
Ultra fine dust sensor
It is equipped with an ultra-precision dust sensor that detects the infl ow rate of ultra fi ne dust below 2.5㎛.
Harmful Gas Sensor
It also reduces harmful substances such as CO2 and greenhouse gases.