Alkaline Water Ionizer : KYK 707
1. Cutting edge slotted electrolysis plate technology!
Oversize platinum titanium electrolysis plates incorporate KYK's slotted plate technology, providing the best of all worlds; extremely long life-span, optimal electrolysis and optimal ionization, with none of the problems associated with mesh plates or the less effective ionization capabilities of non-slotted plates.
2. SMPS(Switched Mode Power Supply) power control system!
SMPS power supplies provide extremely stable power eliminating power loss and shortened life-span as is typical with older technology transformer-based power supplies systems.
3. Dual high capacity filters!
An activated carbon filter ensures pure water for 9000liters (2377 gallons), and a specialized media filter removes fluoride and heavy metals for 6000 liters(1585 gallons).
Both filters have extremely long life-spans, cutting down on the cost per gallon.
4. Electronically controlled filter life indicators!
The KYK Product tracks actual water usage rather than the amount of time that the unit is operating as do many other water ionizer products also reducing cost per gallon.
5. Electronically controlled filter contamination sensors!
The KYK Product continually monitors the cleanliness of its filters and promptly notifies you when the filters need to be replaced.
6. Nine preset pH levels!
Four alkaline water settings(8.5pH, 9.0pH, 9.5pH and 10.0pH), one pure water(filtered only) setting and four acidic water settings(5.5pH, 50pH, 4.5pH and 4.0pH),
all with a convenient touch sensor selection system.
7. 1000 programmable pH and ORP levels!
The KYK Product allows you to program nearly and pH and ORP combination, so as to customize your pH and ORP to the level that's right for you.
This feature is essential due to the wide range of tap water quality in North America. Non-programmable ionizers cannot adjust to local tap water conditions,
so these ionizers are at the mercy of your tap water and a handful of preset pH levels. The pH levels of non-programmable ionizers can vary greatly from the pH levels posted on the control panel of the unit.
Simply put, when used in two different cities or states, a non-programmable ionizer will typically get two completely different pH level outputs when kept at the same pH setting.
8. Seven color LCD Display!
Shows pH level estimates, ORP level estimates, auto-diagnosis error codes, actual number of liters of filter life left in each filter, water flow rate and sound levels.
9. Choice of pH or ORP display!
The KYK Product can show either the ORP or the pH of the water being ionized.
10. Voice prompt system!
The KYK Product notifies you of each system function with soothing voice prompts, chimes, and soft music - all of which have five volume levels, as well as mute.
11. Complete auto-diagnosis system!
The KYK Product continually monitors six internal operating systems ensuring that you are immediately notified in the highly unlikely event of a problem
12. Automatic cleaning system!
The KYK Product automatically initiates a cleaning cycle after each use.
13. Automatic draining system!
Drains water into the electrolysis cell system and filter to enhance full system cleaning and greatly extend the life-span of the KYK Product system over other water ionizer products.
14. Automatic pH and ORP control and display!
The KYK Product controls the pH and ORP of your water by adjusting the ionization according to the mineral content of your tap water.
This allows the KYK Product to estimate and display the pH and ORP of your water. No other system can do this.
15. Stainless steel adapters!
Unlike the plastic adaptors which are used in other systems and are prone to problematic leaks and the subsequent need for replacement, the KYK Product comes
equipped with stainless steel attachments for your faucet or cold water line.
16. Contemporary design!
The KYK Product easily fits in with any decor in your home.
[POINT 1]
Direct cold/ hot Water Heating System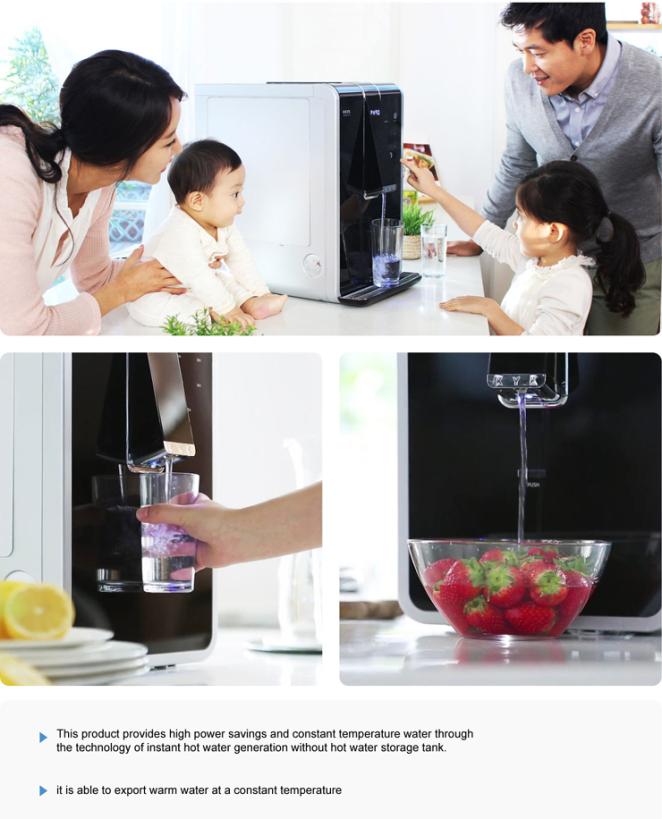 [POINT 2]
Automatic Water Sensor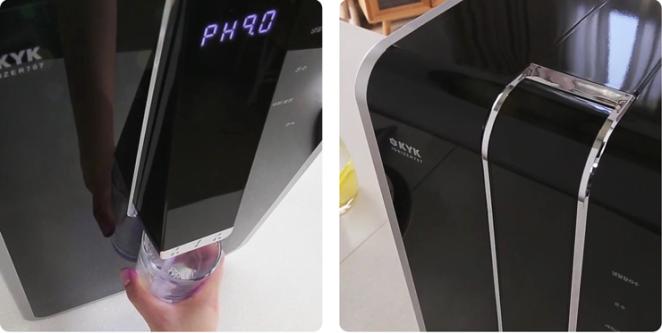 [POINT 3]
Selection of Good Design Marks.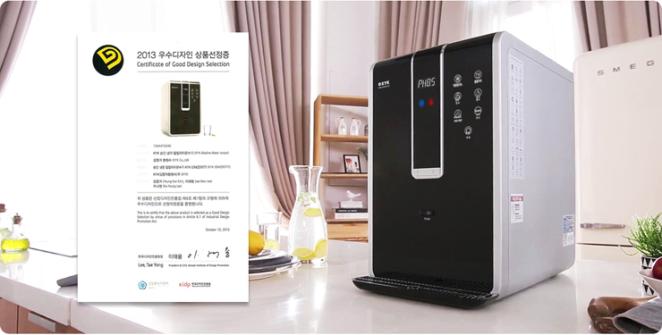 [POINT 4]
Alkali water generator with four filters
[POINT 5]
Using platinum-plated titanium electrode plates
An Implication of Electrode Plate for Ion-Sugar Electrode
[POINT 6]
PH Automated Control System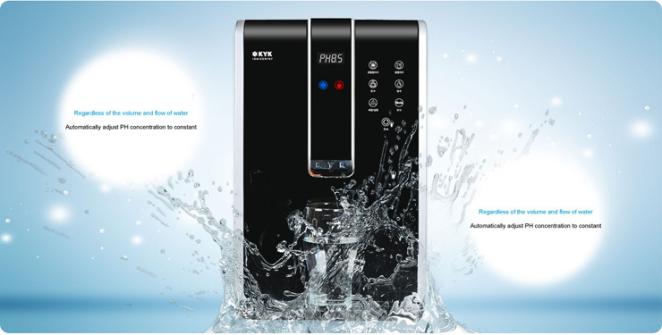 [POINT 7]
2 levels of cold alkali water, 4 levels of alkali water,
8 kinds of purified water were extracted.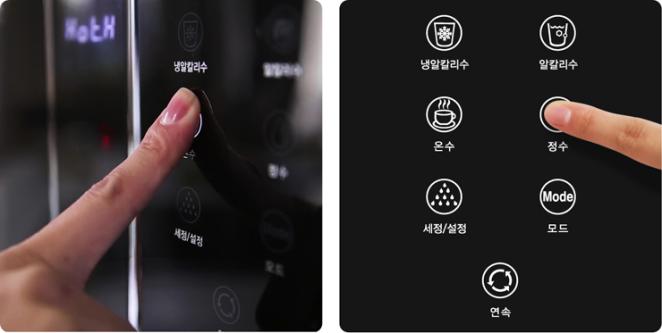 [POINT 8]
What kind of water are you drinking?
Drinking KYK's alcaline water helps to improve the 4 major gastrointestinal diseases.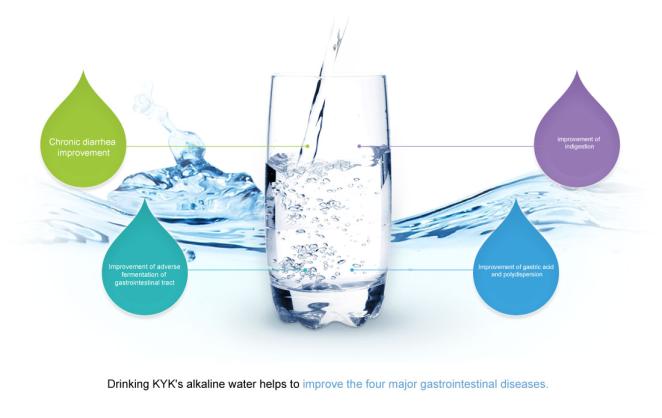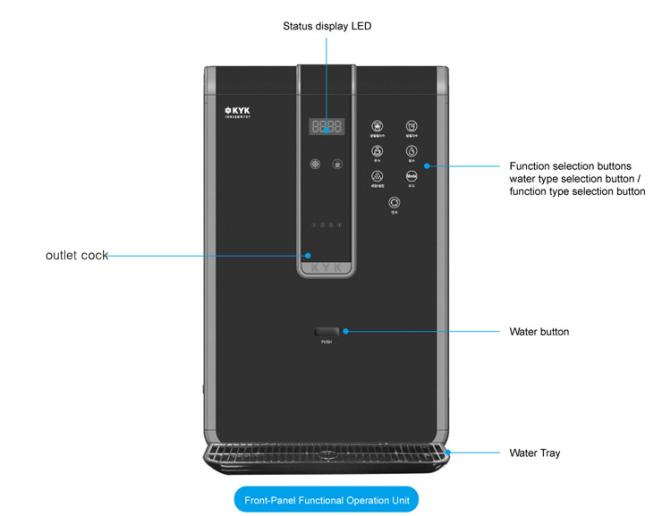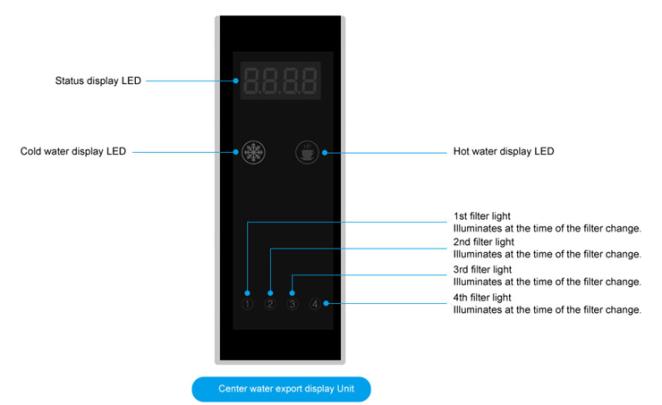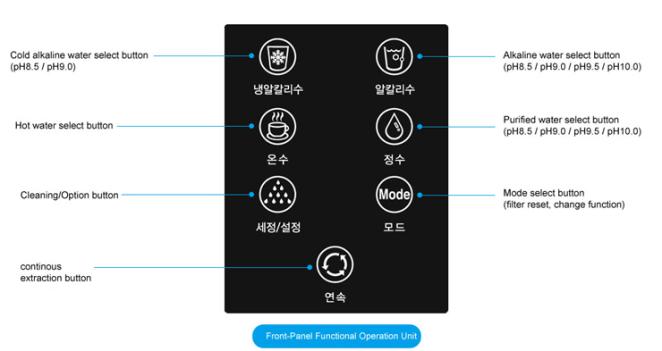 Product Size
Size: 300 (W) x 487 (H) x 465 (D) (mm)
Weight
2.0kg
Using prupose
A device that produces alkali water to help improve gastrointestinal diseases.
Rated voltage/Frequency
220V AC/60Hz
Consumption power
180VA
Configuration/
Water supply specification
Rest.Wall hanging/water straight method
Operation method
Touch Sensor System
Available temperature
5° C~35° C
Available hydraulic pressure
3.0kgf/cm2
Electrolytic method
Continuous electrolytic method
LED Display
Step-by-Step display / Filter Usage / Mode display
Electrolytic
processing quantity
Alkaline water discharge per minute 2.0L/min(±10%)
Electrolytic
capacity transition method
4 levels of alkaline water /4 levels of acid water / Purified water
Electrolytic cell
Platinum-plated titanium electrode plate
Electrode
plate cleaning method
Automatic cleaning method
Filter usage period
about 3500L / Usage period
Filter exchange period
1. When the filter life light no1 starts flashing.
2. When water tastes, smells, and colors go wrong.
3. The time of exchange is indicated based on the quantity of the integer and the period of use.
4. You must use the genuine filter. We are not responsible for any damage caused
by the use of similar products.
Filter type
Primary filter, secondary filter
Filter exchange method
See User's Manual
Power protection device
Fuse
Overcurrent detection device
Electronically Stopping Electronic Power
Temperature-rise
protection device
Through the temperature detection circuit in the SMPS, the instrument automatically stops working.