What is Roseskin?
This product is made by affiliated patent technology of Nano Cosme Lab in Japan and world-wide Korean cosmetic manufacturing technology.
This cosmetic product contains fermented fucoidan, which was extracted by 9 patented ingredients and innovative technology.
It's released for 18 years in Japan and completed clinical test. Also, the reliable ingredients were certified by dermatology in Korea.
| | | |
| --- | --- | --- |
| | | |
| Natural cosmetics which was manufactured and developed by natural ingredients and Nano tech | Cosmetic product made by 18 years technology and eco-friendly ingredients | Natural ingredients which are good for skin are applied to Nano tech to improve their ability |

* Oasis Inc. in S. Korea has partnership with Nano Cosme Lab. in Japan and develops, manufactures and distributes cosmetic products to protect rough, damaged skin due to yellow dest and air pollution.
'Roseskin' by Oasis Inc. in S. Korea is made through affiliated patent technology of Nano Cosme Lab in Japan and world-wide Korean cosmetic manufacturing technology.
All In One Skin Lotion

It contains 9 ingredients which is good for improving damaged skin and anti-aging (Patent registered) as well as 5 stem cell culture fluid and fermented fucoidan, which was extracted by proprietary technology
This anti-aging cosmetic product contains fucoidan which is seaweed extract that was developed in Japan for a first time and certified as anti-cancer substance that promotes cell renewal as well as botanical stem cells to improve damaged skin and prevent aging.


Moisture Essence

This essence contains the patented fucoidan and 7 components of Fructan Bsasm.
If using for 14 days, your skin will be surprisingly changed
It extracts and contains fine, microscopic protein particles from the patented, natural ingredient of Nano Cosme Lab to lighten skin tone and make skin texture healthier.


Nourishing Cream

Hydrolyzed collagen
If you use this double functional cosmetic product (Anti-wrinkle, whitening) continuously, your skin tone will be lightened and reduce wrinkles.
With exceptional penetration and moisturizing power, your skin will be softened and healthier with its nourishment.
Features of Roseskin Products
| | | | |
| --- | --- | --- | --- |
| | | | |
| Researched and developed by researchers with Ph. D degree at University of Tokyo | Natural preservatives were imported from Japan to use | No alcohol, fragrance, colouring and chemical preservative | Without any harmful, chemical components |
Effect of stem cell culture fluid
Recovery
6 botanical stem cell extracts such as rose, lotus, edelweiss, bean, apple and tomato are known for its effect that recovers the skin and damage.
Moisturizing Soothing
It contains abundant nourishment and moisturizing ingredients to relieve skin and increase elasticity.
Effect of Fucoidan cosmetics
The fucoidan which was fermented and extracted as fine, microscopic particles from brown algae such as seaweed, kelp and hijiki with original technology of Nano Cosme Lab in Japan

First : Improve level of immunity
Second : Increase skin elasticity and prevent aging and wrinkles
Third : Moisturize deeply into your skin and improve atopy and skin troubles
Fourth : Make skin healthier with exceptional moisturizing power
Main Ingredients
(1) Rosa Centifolia Flower Water
Roseskin contains Rosa Centifolia Flower Water, not purified water (60% Rosa Centifolia Flower Water).You could moisturize and also, cleanse your skin with rose flower water and make your skin tone brighter and lightened. Also, you can enjoy the beautiful, fascinating rose fragrance.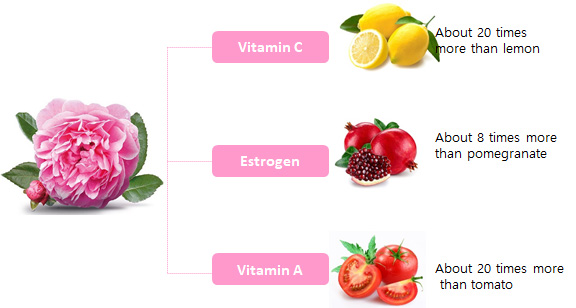 (2) Containing stem cell culture fluid - 7 callus nourish calluses deeply nourish your skin
Lycopene and vitamin lighten and whiten your skin also, provide moisture to hydrate your skin. It prevents aging, pimple, fine wrinkles and melanin production and soothes skin. Effectively prevent freckle
| | | | |
| --- | --- | --- | --- |
| | | | |
| Glycine Max (Soybean) Callus Culture Extract | Nelumbo Nucifera Callus Culture Extract | Rosa Damascena Callus Culture Extract | Green Tea Callus Culture Extract |
| The contents of genistein and daidzein in bean plant cell increased | Gallicacid in Nelumbo Nucifera Callus Culture Extract was confirmed, due to ethyljasmonate(MJ) while culturing the lotus plant cell through HPLC analysis | Effectively lighten skin and improve skin elasticity Skin lifting effect confirmed; | Antioxidative activity, whitening, soothing effect |
| | | | |
| Myrothamnus Flabellifolia Callus Culture Extract | Solanumlycopersicum(Tomato) Callus Extract | Leontopodium Alpinum Callus Culture Extract | |
| Myrothamnus Flabellifolia Callus Culture Extract increase collagenesis. The increase of DDPH free electron removal effect increased in MMP-1 biosynthesis suppression experiment, Elastase (breakdown enzyme of elastin in skin) suppression experiment and antioxidant effect | Vitamin C in tomato improves skin elasticity, prevent fine wrinkles and suppress production of melanin and freckles | Prevent wrinkles with moisturizing, skin-lifting, dermal compactness effect | |
(3) Fermented fucoidan and natural ingredients
Increase skin elasticity and keep your skin healthier with exceptional moisturizing power
| | | |
| --- | --- | --- |
| | | |
| By using Thanakha fermented extract, it prevents thermal aging and improve skin condition | Enantia Chlorantha Bark Extract | Oleanolic Acid |
| The contents of genistein and daidzein in bean plant cell increased | It controls excessive sebum which is a main cause of skin troubles such as seborrheic dermatitis and pimple. It tightens pores, soothes skin and keep your skin glowing and healthier. | This component can be easily found in rosemary, thyme and lavender as well as ginseng, cornus fruit and deodeok etc. Effective for inflammation. It promotes production of ceramide and strengthens skin barrier |
| | | |
| Witch Hazel Extract | Albatrellus Ovinus Extract | Ceramide NP |
| It's involved in skin cycle promotion and improves skin condition and make new skin layer. | Provide soothing effect and anit-aging effect | The ceramide which is a component consists of skin barrier which protects skin from external stimuli can keep moisture from evaporating and promote skin activity while strengthening skin barrier function. |