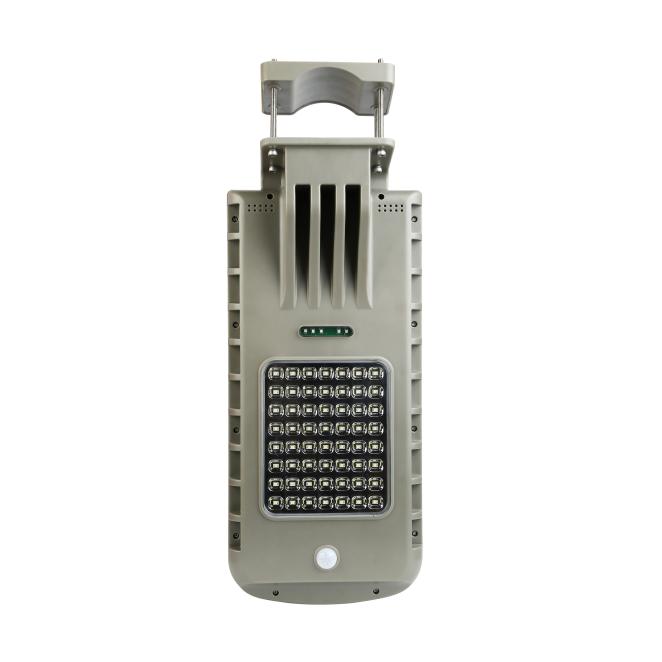 lar Garden Light 10W Indicator



| | |
| --- | --- |
| Model No. | WS-675 |
| LED Light | 10W | 1050-1200 lumen | 6500 K | Epistar Chip LED |
| Solar Panel | 12W Poly crystaline |
| Dimension: | 515 X 220 X 95 mm |
| Battery: | 11.1V 4Ah | 44.4Wh Lithium ion battery 18650 |
| Motion Sensor: PIR | 6-12 m |
| Housing Mateiral | ABS Plastic |
| Height of installation | 3.5-4.5 m |
| Diameter of Pole | 70-100 mm |
| Distance between pole | 10 - 12m |
| Protection | IP 65 (water proof charge controller) |
| Ilumincation area | 8 m (Radio max.) |
| Control | Motion Sensor + Remote control + Day light control |
Feature:
All in one compact unit Ecological energy solar lighting
Outdoor gardens, roads, streets, etc.
Quick assembly For surfaces / posts mount
5 LED work indicators: Charge, discharge, Low, middle, high battery
Installation options:
Decks, fences, entrances to homes.
Areas that we want to keep Lit Security or Scare away Intruders.
Camping, caravans, Boats. Access to garages, warehouses or Farms.
Areas of pedestrian Passage. Lighting boxes, Doors, locks.
Enlightenment of Flower Beds, Fountains, figures or garden areas.
Inability to reach places with electrical wire.