Shenzhen EEK Electronic Co., Limited established in 2006, we develop and manufacture the Ketone Breathalyzers and alcohol testers with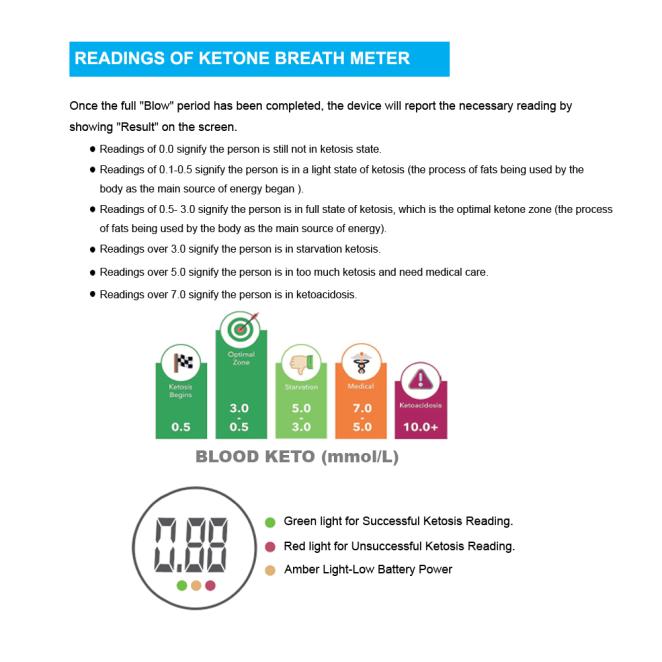 our high professionality;
We have got the FDA in 2017, and all our models are with CE,ROHS,FCC certifications as well as the testing reports.
12 patents on designs and functions are on hand now, and OEM and ODM services are available!
We also have rich experience in exporting the various Ketone Breathalyzers and alcohol testers to overseas markets as US, Europe, South Africa, Southeast Asia and the Middle East;
Contact us if you are interested in our products or you have an idea on developing your own design, our service will meet your satisfactions.
Q: How do you use this?
A: 1.Hold the power button for 3 seconds until the device turns on.
2.Wait 20 seconds countdown for device warming-up.
3.Blow with the mouthpiece for 6 seconds, the testing result will be displayed on the screen.
Q: What do the numbers mean?
A: You could note the level of excess ketones through the change of numbers.The higher the number, the more the ketone.

Q: If I'm in ketosis, what number will the best be?
A: The range of 0.5-3.0 signify the person is in full state of ketosis, which is the optimal ketone zone.

Q: What is the best time to test your ketones?
A: The best time to test your ketones is when it is convenient for you.It is important that you are consistent and test at the same time on each day you are testing.

Q: Can two people use the same meter?
A: Yes, the ketone meter could be shared with your family or friends and it would be better to replace the mouthpieces before use the meter.

Q: Does this have a light?
A: The Screen has an LCD backlight.

Q: What is the results range for ketones?
A: 0.1-0.5 low, 0.5-3.0 moderate and above 3.0 high

Q: Where can I get more mouthpieces for the ketone meter?
A: Each device is equipped with five mouthpieces. We could provide you with additinoal mouthpieces as your request.

Q: How often should I test?
A: As often as you like.You could test it once a day or once every other day.

Q: Does this come with batteries
A: Sorry,battery is not included in package.
https://www.alibaba.com/product-detail/Amazon-Best-Selling-Products-FDA-Approved_62367201804.html?spm=a2700.icbuShop.82.4.21665fd79JWu9B
Lara Liu
Shenzhen EEK Electronic Co., Limited
Tel: 86-755-82592643
Mobile/Whatsapp: 86-15814407556
Skype: lara1223sky
Email: sales03(@)szeek.net