Clearsee Brand Introduction
Clearsee has a basic philosophy of 'Finding bright and clear world,' and it has a desire to become a brand that everyone in the world loves.

Clearsee's design pursues a clean image of simplicity and modernity. In addition, it has consistently attempted new concepts to suit the senses of young people, and it is trying to approach customers with a more superior design.

Furthermore, it is attempting to become a global brand as a front runner of the cleaner market with excellent products and sensational design.

Clearsee is a name that has a meaning of 'Seeing Cleanly.' We named it in the hope of making products that people use to be cleaner. We named the brand name that can have a sense of friendliness to anyone in the world, and we are presenting various cleaner products, including our main manufacture product of glasses cleaner.

Our company is conducting continuous research and development to enrich the cleaner market. We are hoping to provide clean products without harmful substances to consumers with our eco-friendly products, and we are hoping to have a positive effect on the Earth's environment as well.
Manufacturer's Own Brand
Clearsee's manufacturing company, CMA GLOBAL, has received a lot of customer satisfaction because it puts a lot of effort to make lens cleaners through lavish investment and long-term efforts. Now, we are planning to launch CMA GLOBAL's own brand, Clearsee, to directly deliver products to consumers rather than to companies.
Promotional Product Introduction
As the Clearsee brand has officially launched, we presented Fog Prevention Glasses Cleaner, which is a must-have item these days. It's an item for people who get fogs on their glasses when they are eating hot ramen or a hot cup of coffee or when they need to wear a mask for a long time. If you wipe it several times like you normally wipe your glasses, it will prevent fog from situations where your glasses get foggy.
How to use
1. Before use, remove dust on the lens surface with normal glasses cleaning cloth.
2. Take out Fog Prevention Glasses Cleaner from the vinyl zip lock bag.
3.. Meticulously clean the lens surface with Fog Prevention Glasses Cleaner and make sure it doesn't get foggy.
(Fog Prevention Glasses Cleaner's Nano Coating Fluid is hydrophilic, so if you blow on the lens before you wipe it, it will have a better prevention effect.)
4. Store it by putting it back to the zip lock bag.
5. It can be used in various ways. (Ski goggles, bathroom mirrors, bike helmets, vehicle side mirrors, industrial goggles)
Usage Precautions
You MUST! store it in the vinyl zip lock bag.
Fog Prevention Glasses Cleaner's coating substance is hydrophilic (close to water), so if you wet it or wash it, its function will diminish. Never wash it and store it in the zip lock bag after use.
When you use Fog Prevention Glasses Cleaner, there may be spots on the lens surface as it becomes coated. This is caused by the optical characteristic of the glass itself, and you can remove it by wiping it again.
Product Features
Clearsee's Fog Prevention Glasses Cleaner has evenly coated special Nanoparticles on both sides of the super-light (8g) Microfiber glasses cleaner. It conveniently prevents fog using the normal method of wiping glasses, and it doesn't scratch the lens.

In addition, Clearsee's Fog Prevention Glasses Cleaner passed the REACH TEST (EU Standard Harmful Chemical Substance Non-Detection Test), and it is a product that has been certified as Chemical Product Safety Standard Conformity Product.

It doesn't require an inconvenient method like other company's fog-prevention products like applying liquid or gel on the lens and drying it. It was developed to be conveniently used with just one glass cleaner.
Through two years of product research and one year of product development and testing, we have equipped ourselves with high-degree Nano Coating technology.
Since our product goes through the coating of hydrophilic Nanoparticles on both sides of CMA GLOBAL's Microfiber glasses cleaner and drying process, it can provide fog-prevention effects for a long time.
Fog Prevention Glasses Cleaner can be used for 6~12 months, and it lasts for 12 hours with one usage. You can use it for approximately 300 times, so you can have long-lasting effects with just one product.
(However, duration time and function may vary depending on the usage environment and lens material)
Clearsee's product uses Microfiber material that passed OEKO-TEX standard100 (100 types of harmful substance test).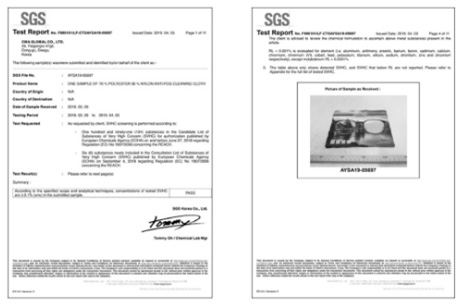 What is Microfiber Material?
Microfiber is a fiber that is 1/100 size of hair and 1/30 of noodles, and it is processed with shrunk finishing. It is composed of cutting-edge technology of polyamide and polyester.

Microfiber is considered as the cutting-edge manufacturing technology of synthetic textile that is one denier or less.

Microfiber has a 3-dimensional structure of Microfibers with a 1-micrometer diameter. With its countless micro spaces that are formed when it is divided, it is easy to wipe dust or contaminants on objects. In addition, due to the capillary phenomenon of Microfiber, it has excellent absorbing power, and this excellent function is the characteristic of the thread itself, so it is permanent.

Thus, Microfiber has excellent absorbing power, washing power, and touch, and it is a future-material that is evaluated to have better heat retaining power than goose down as it creates a large amount of air bound.