DCF7X Digital Cutting Machine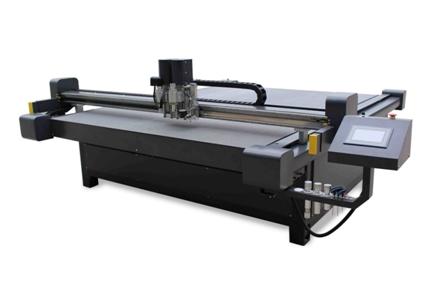 Induction:
1. The DCF7X series high speed cutting system is designed and manufactured mainly for batch production. Thanks to the new control system and liner guides driving system, the DCF7X cutting machine has many merits such as high speed, high accuracy and stable mechanical property.
2. This DCF7X cutting equipment has a remarkable improvement on working efficiency and is able to support many expanded functions. Various tools can be added to this high speed cutting system.
3. This product adopts lightweight design and has low energy consumption. Our DCF7X cutting system is quite appropriate for cutting materials such as cloth, carpet and automobile interior decoration materials in the industry like cloth, car interior, composite, seal gasket, sporting goods, sofa fabric etc.
4. This product also called low-layer cutting system, single-layer cutting system, mat cutting machine, car seat cutting machine, gasket cutting machine, composite cutting machine, car interior cutting machine, sofa fabric cutting machine, leather cutting machine and so on, according to the different cutting material and application.
Main features:
1. Optimized for small production, steady performance
2. Easy to expand to other tools
3. Auto tool height make the tool setting more convenience
4. lower energy consumption
Cutting materials:
Car mats, foam compound, XPE, EVA, fabric carpet, imitation leather, leather, cloth, plush toys, shoe lining, presoaked material, glass fiber, carbon fiber, rubber gasket, Graphite seals etc.
Application:
Automotive interior, Composite materials, Seal gasket, Sporting goods, Sofa fabric etc.
Technical Specification:
Mode
DCF732516
DCF731713
DCF731310
Effective cutting area
2500*1600mm
1700*1300mm
1300*1000
Configuration

Oscillating knife、pen

Smallest cutting diameter
6mm
Max aped
1400mm/s
Driver
Servo
Precision

≤0.1mm

Maximum cutting thickness
30mm
Data form
HPGL,DXF,PDF
Voltage
220v±10% 50Hz
Data port
parallel port,serial port,USB port
Option
Video registration system
Occupy dimension(L*W*H)
3500*3200*1400mm
2650*2900*1400mm
2200*2570*1400mm
Note
Other size can be customized.
Cutting samples:
All around the car mat
Washer
rubber
Coil car mats