"Apollo Duet"
– Facial skincare beauty system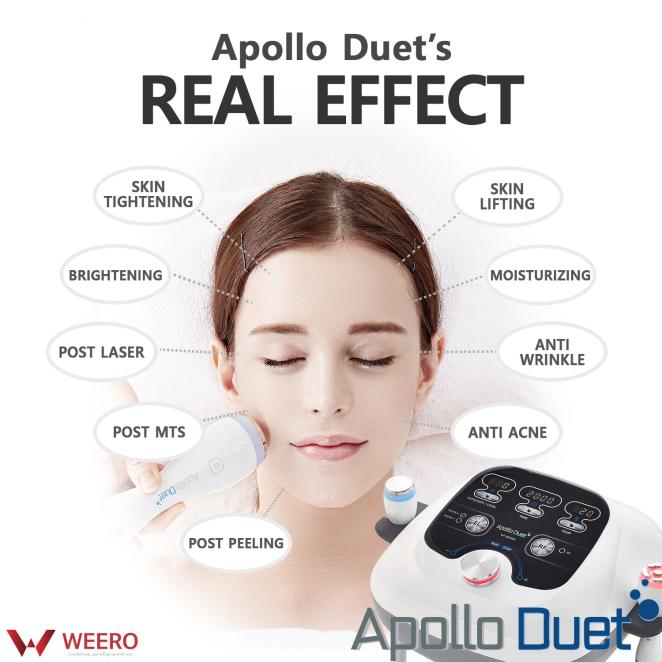 Apollo Duet is a fundamental skincare device for professional aestheticians, professional beauticians, cosmetologists, and dermatologists.
Apollo Duet provides electroporation and radiofrequency functions.
Apollo Duet has 6 functions.
# Electroporation
1. A Virtual Mesotherapy, classified by the FDA as an alternative of injections.
2. The system that allows the transdermal vehiculation of pharmaceutical and cosmetic products by means of electro-diffusion.
3. Effect pores to open and allows macromolecules to enter through the cellular membrane.
Apollo duet can be operated by all kind of liquid solution, which delivers into the skin effectively.
This is a very important point. Using high-quality cosmetics are not helpful unless the ingredients are delivered into the deep skin.
The way to penetrate active ingredients into the deep skin properly, operating by electroporation will maximize the cosmetic's effect.
# Radio Frequency
1. Used for thin skin are, such as face and neck etc.
2. Induces safe electro energy into the skin and generate heat energy on the targeted area.
3. It stimulates fibroblast and regenerate aged collagen.
4. By this mechanism, RF improves skin elasticity and lifts the sagged skin.
Overall, it will reduce signs of aging and made your face look better.
# Powerful Cooling
-20℃ of strong cooling function cools down skin after aesthetic operation such as laser or MTS and it reduces Downtime and PIH risk.
Cooling system protects skin surface and intercept blood vessel absorbing by contracting a capillary during penetration of solution.
# Strong Heating
45℃ of strong heating function warms up skin during operation.
Heat energy relaxes muscle and reduce pain.
Effectiveness of electroporation can be maximized by setting the applicator as same as body temperature.
# +/- polarity
- Robust energy
- Migration of pulse
- Penetration
- Introduction of Apollo Duet in English
- Israel CEO interview about Apollo Duet benefit.
- Apollo Duet RF neck lifting