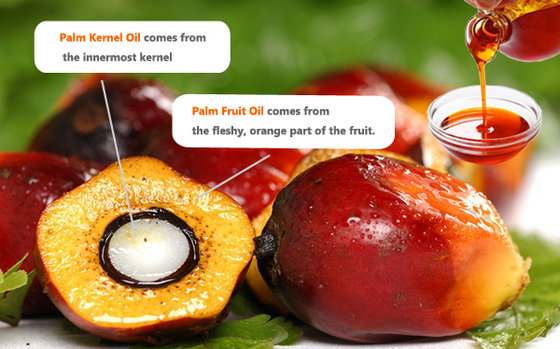 The surprising differences between palm oil and palm kernel oil

Palm oil and palm kernel oil are both sustainable tropical oils which come from the fruit of the oil palm trees grown in eco-friendly Malaysia. These versatile oils, however, have very different chemical compositions and physical characteristics. Palm oil is often used for edible purposes while palm kernel oil is mainly used for non-edible purposes such as making soaps, cosmetics and detergents.

The environmentally friendly oil palm tree
Malaysias oil palm tree, Elaeis guineensis, is the most efficient oil-bearing crop in the world. These trees produce bountiful supplies of fresh fruit bunches throughout the year. These bunches weigh between 20 and 50 pounds, and contain up to 3,000 orange-red fruitlets. Plantation workers, many of whom are family farmers, harvest the fruit by hand.

Palm oil is a healthy oil used in foods
Palm oil, sometimes called palm fruit oil, comes from the fruits flesh. Its pressed, similar to how olive oil is made. Many food manufacturers looking to remove trans fats from their products are turning to Malaysian sustainable palm oil because it is naturally trans fat free. Its also semi-solid at room temperature, giving it the same desirable characteristics as partially hydrogenated oils, but without the health risks. Rich in nutrients such as beta carotene and vitamin E tocotrienols, palm oil can be used as an ingredient in ice cream, cookies, crackers and cake mixes. Non-GMO Malaysian sustainable palm oil can already be found in many better-for-you products such as Smart Balance spreads, Luna bars and Nutella.