Portable hydrogen alkaline reduced water bottle
It's a water bottle which creates alkaline reduced water through natural circulation process.
Ceramic ball composed of pure natural ore and metallic ore increases hydrogen in the water.
It anti-oxidizes the water to produce antioxidant elements which eliminates oxygen free radical (O2-).
( Oxygen free radical(O2-) +hydrogen (H-) → Reduced to water or Oxygen (O2))
Features
-. Alkaline reducing stick and the ceramic ball increases the pH level and strengthens the Oxidation Reduction Potential.
-. Alkaline reduced water is sanitary and safe because germs cannot inhabit in the water.
-. The fresh water reduced through alkaline reduced stick has denser cluster structure which increases the absorptance rate and provides refreshing taste.
※ Once drinkable water(mineral water, distilled water and electrolytic ion water) is poured into the water bottle, it turns into an alkaline reduced water rich in hydrogen.
1. Drinking a lot of water is good for your health.
2. Water temperature is best for the human body when maintained at around room temperature level (unless the weather is extremely hot).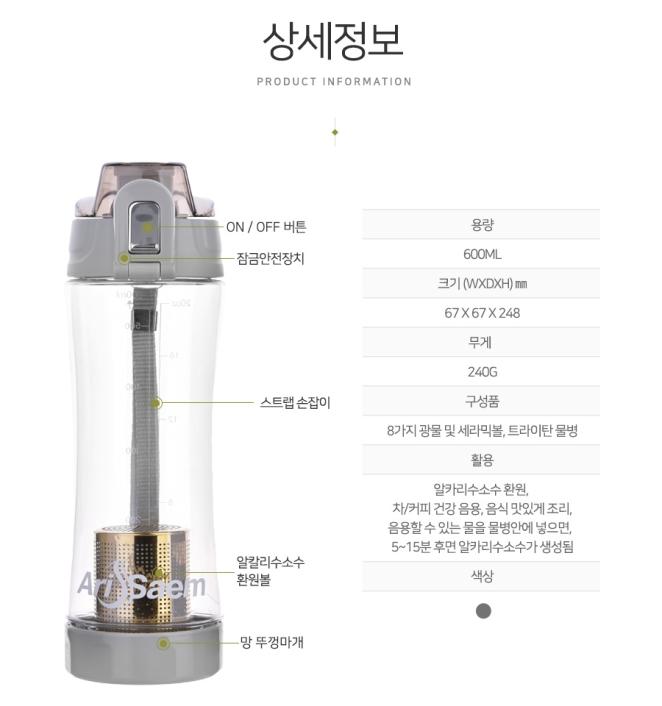 ARISAEM Info.
Product Name : AriSaem Water TI-600
Country of Origin : Korea
Manufacturer : CHANGHA
Capacity : 600ml
Weight : 400g
Components : Lid, Body, Mineral Stone Ball
Size : 90mm * 70mm *250MM
Material : Lid PP, Body Tritan, Titanium