Product Item: Asymmetric 50mm deep super light disc road bike tubular carbon rim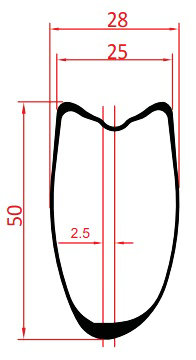 Constructed with premium Toray T700 & T800 carbon fiber, makes this asymmetric 50mm deep disc road tubular rim light but stiff, build into a lightweight road bicycle or cyclocross disc carbon wheelset.
Specification:
Item:

DT50D

Use*:

road bike

Rim type:

700C tubular - disc brake

Material:

Toray T700 & T800 carbon fiber

Width:

25mm

Weight:

360g±15

Depth:

50mm

ERD*:

545mm

Weave:

UD, 3k, 3k twill, 6k, marble

Finish:

Matte, glossy

Spoke hole count:

16 - 36

Assemble hole diameter:

8.5mm

Spoke hole diameter:

4.5mm / 2.5mm or customized

Valve hole diameter:

6.5mm

Max spoke tension:

140kgf (recommended 110~130kgf)

Max / Min tire pressure:

N/A / 80psi -

read more

Decal:

Customized

Weight limit:

125kgs

Warranty:

5 years.

Standard:

EN standard
* For cyclocross, we recommend same rim profile item RT50D (410g).
* ERD: we calculate effective rim diameter from the top point of the nipple, learn more here.
Features:
Super lightweight, rim constructed with premium Toray T700 & T800 carbon fiber, best strength to weight ratio with no expense spared.
Unique manufacturing process:
Our Engineering team creates a unique fiber orientation which amplifies the desired riding characteristics for a given rim. And each rim carries its own layup schedule documents which are meticulously by the layup workers, it ensures the accuracy of each rim in the production process.
Our carbon rims are made in one piece molding, each rim is made by one piece long carbon fiber, no wrinkles, to make the strength of rim is the strongest. And we use a unique process to remove the air bladder from the valve hole, so that the rim does not have to be patched like traditional manufacturers use.
100% Quality Inspection:
Carbonal does 100% quality inspection and record in database, each carbon rim is given a unique ID number, which allow us to deliver the highest quality product possible and track every rim to ensure the best after-sale service.
Read more about our carbon rim quality control here.
1.3 Million Liability Insurance Worldwide:

5 years warranty:
Carbonal warrants its products to be free from manufacturing defects for a period of 5 years after original date of purchase.
This warranty only applies to the original owner and is not transferable.
Valid proof of purchase, pictures of the defect and the product serial number is required for a warranty claim. Please retain your proof of purchase for any future warranty claims.
This warranty does not cover:
1. Normal wear and tear;
2. Any damage caused by accident, misuse, neglect, abuse, or any other fractious reasons;

3. Improper assembly, maintenance, or maintenance by an unauthorized technician.