Product Item: Asymmetric rim profile 29 inch mtb rims carbon hookless tubeless ready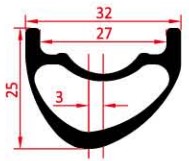 This asymmetric 3mm offset 29er mtb rim balances drive and non-drive side spoke tension to create a more durable and well-balanced light carbon mtb wheel, it's perfect upgrade for your xc mountain bike.
Rim Specs:
Item:

MX932XC

Use:

XC - cross country

Rim type:

29" hookless

Material:

Toray T700 & T800 carbon fiber

Tubeless ready:

Yes

Weight:

330g±15

External/Internal width:

32mm / 27mm

ERD*:

595mm

Depth:

25mm

Weave:

UD, 3k, 6k, 3k twill, marble

Weight limit:

100kgs

Finish:

Matte, glossy

Spoke hole count:

16 - 36

Assemble hole diameter:

8.5mm

Spoke hole diameter:

4.5mm / 2.5mm or customized

Valve hole diameter:

6.5mm

Offset:

3mm (asymmetrical)

Brake type:

Disc brake

Max spoke tension:

140kgf (recommended 110 ~ 130kgf)

Max tire pressure:

60psi / 4.1bar

T

ire size:

2.0" ~ 2.4" (recommended)

Min tire pressure:

25psi / 1.75bar -

read more

Decal:

Customized

Standard:

EN standard
* ERD: we calculate effective rim diameter from the top point of the nipple, learn more here.

Features:
The asymmetric structure of the rim allows a more even spoke tension which further increases the rigidity of a complete impeller

.
Due to the wide width of 32 mm on the outside and an internal rim dimension of 26 mm, this 29" carbon rim offers enough space even for wide tires.
Impact Resistant Construction. Carbon rims feature a layer of composite material that increases the impact strength and helps distribute energy and shock from impacts to the rim.
Super lightweight, rim constructed with premium Toray T700 & T800 carbon fiber, best strength to weight ratio with no expense spared.
Hookless Rim Bead. Hookless rim bead more straight and smooth side walls, tire can touch rim walls fully. More durable and impact resistance compared to the traditional hooks rim.
Manufacturing process:
Our Engineering team creates a unique fiber orientation which amplifies the desired riding characteristics for a given rim. And each rim carries its own layup schedule documents which are meticulously by the layup workers, it ensures the accuracy of each rim in the production process.
Carbon rims are made in one piece molding, each rim is made by one piece long carbon fiber, no wrinkles, to make the stength of rim is the stongest. And we use a unique process to remove the air bladder from the valve hole, so that the rim does not have to be patched like traditional manufacturers use.
Warranty Policy:
5 years warranty and 2 years crash replacement;
1.3 million liability insurance worldwide, included commercial general liability and occurrence basis.
More information about our

Warranty Policy

.
100% Quality Inspection:
Carbonal does 100% quality inspection and record in database, each carbon rim is given a unique ID number, which allow us to deliver the highest quality product possible and track every rim to ensure the best after-sale service.
Read more about Carbonal carbon rim Quality Control.