Automatic Car Cover (COVOUS)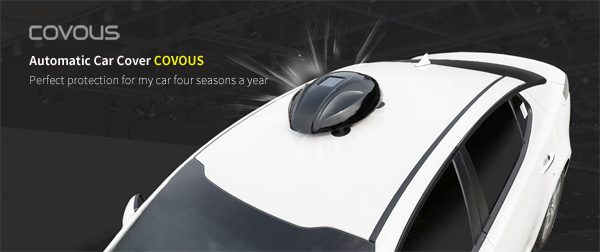 Installation instructions – How to operate COVOUS
Make sure to operate the device according to instructions and avoid causing mechanical issues due to misuse.

01. Install batteries in the main body and place over ther center of the car roo.(Place arrow in the car front of the main body at the front of the car)

02. Keep the battery switch turned on and press Spread Button on the remote controller. Voice says, 'COVOUS AUTO starts now.' While it says, 'Pull the red part of the cloth,' the cover of the main body is moved upwards to spin the cover. Put the spinning cover on a car.

03. If the main body stops spinning, pull the red part of the back cover. The cover of the main body automatically moves downwards in 60 seconds. Within that 60 seconds, you can fine-control the cover using the 'Spread' or 'Fold' Button on the remote controller. (The main body spins by one eighth whenever the 'Spread' or 'Fold' Button is pressed.)

04. Put the front and back parts of the cover on the car.
When the cover of the main body moves downwards, it says, 'Alert system is activated'.
(The main body spins by one eighth whenever the 'Spread' or 'Fold' Button is pressed.)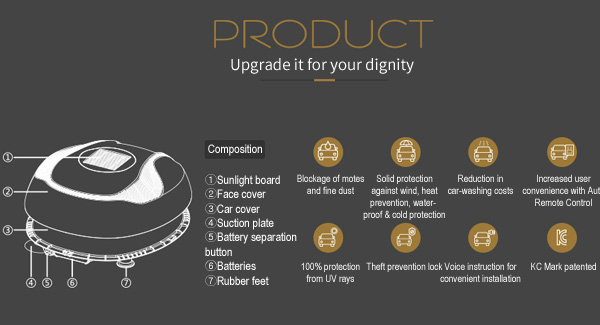 Composition
Main body, battery, remote controller, charger, fixing strap (1), wind protection straps (4), instruction, parts case, pouch (Option)
Material
Cover – Polyester pongee / Exterior – ABS/POM/TPU and etc.
Size
525 x 462 x 169mm
Weight
5kg
Charger standard
DC12.6V/1Ah
Battery standard
6Cell DC12V/5200mAh
External power(Option)
Sunlight board 100mAh
Temperature
Operation temperature
-10°C~60°C
Storage temperature
-20°C~45°C
Before and after application of Sedan

Before and after application of SUV