Automatic bag inserter Hennopack's bagmaker inserter converting rolls of polyethylene film into made-to-measure bags. Our range of poly bag inserters provide perfectly inserted bags into boxes, crates or other containers. Starting from a parent film roll you obtain the best price per bag. If you require a compact bag inserter offering maximum convenience, a high-performance bagmaker inserter handling many different containers or a high-end bagmaker inserter handling different types of special or thick film, we have the appropriate solution for you. For the automatic bag insertion into tobacco boxes, pallet containers or octa bins, we offer you a unique hennopack's bagmaker inserter.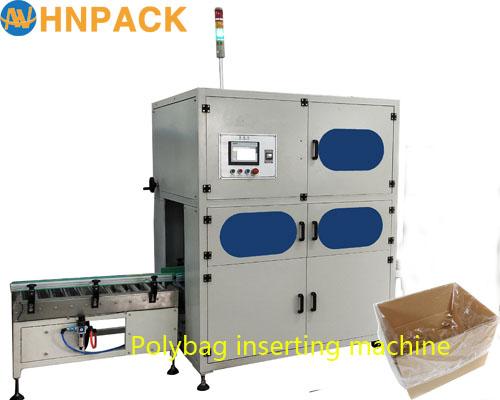 Model MBP-40T Forming and sealing speed :10~15ctns/min Carton storage quantity:100pcs (1000mm) Carton size : Customized Power supply:110/220V, 50/60Hz, 1 Phase Discharge height:650mm Machine size:L2100×W1610×H1940mm Machine weight:500kg
From a tubular film roll, suction cups pick up the end of film and form the bag while the welding bar seals and cuts the bag. Finally, the bag is inserted into the box. After the forming bag process, a press device equipped with a blowing system fully opens the bag. The box is ready to be filled.