Introduce Automatic Tewei Light Pole Welding Machine for Sale
Tewei light pole welding machine,more than 70% of light pole factories have bought " Tewei " light pole welding machine for round conical and polygon light pole welding.It performanced very well,and suitable for different length of light poles( 6meters ,9meters,12meters or 14meters long )
Tewei light pole welding machine combines of the following parts: 1, a long working table with cart 2,submerged arc welding system ( including welder and wire feeding system ) 3,welding flux recycle system 4,hydraulic system and electric panel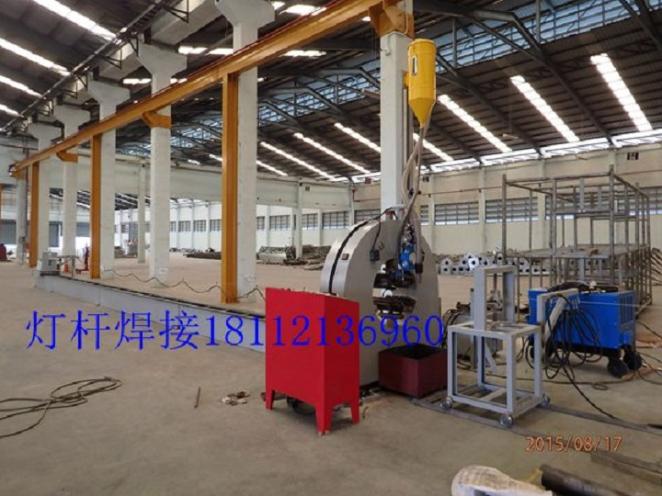 Why should I buy Automatic Tewei Light Pole Welding Machine ?
·Easy to operate, one or two experienced worker can operate it well ·High efficiency,1-3 meters/min ·Environmently,flux recycle system . ·Good welding performance with submerged arc welding,less invest ·Suitable for Various of length or types of light poles
Technical parameters
Seam Length12000mmMaximum Thickness5mm
Host Header Size(l*w*h)1560*640*1900mm
Worktable Size(l*w*h)14000*400*460
Max Seam Diameterφ320mmMin Seam Diameterφ60mm
Welding Current630a
Walking Device MotorBWD220-43 / 3KW
Pump MotorY2100L2-4 / 3KW
Recovery MotorY112M-2 / 2.2kw
FAQ
Q: Are you a factory or trading company ? A: We are a factory with export licence.
Q: Where is your factory located ? How can I visit your company ? A: In Yangzhou City, Jiangsu Province, China. There is airport in our city, about half an hour's drive. And our factory is near Nanjing and Shanghai. Transportation is very convenient.
Q: If I want to start a light pole factory, can I get a whole machine line from you ? A: Yes, we can make the whole light pole production line.
Q: What is your machine price level ? A: Price is reasonable with good quality.
Q: What is your machine warranty ? A: One year.
Q: Is engineer available to provide service abroad ? A: Yes, we will provide free installation and commissioning, also free training.