Description:
This air bubble washing machine is fit for the production of foods, inside the equipment is set air bubble device which made material turning, washing surface chemical, at the same time can be put little pharmaceutics to disinfection and fixation. Floating objects can be overflowed from overflow launder; calcium deposit can be discharge from sewage outlet, up to deep clean.It is high cleanness-degree, saving emerge, water, reliable and stable.
Features:
1. High-pressure air bubble and spraying water on the end of the machine can washing off dirt, sands, and other residue.
2. Continuously supply water for spraying and high-pressure. And the supplying water can be adjusted.
3. There are many gas regulator which can adjust gas supply.
4. It is equipped with filter and filtering water tank which can separate residue and hair and other things
5. Body is made of SUS304
6.The speed can be adjusted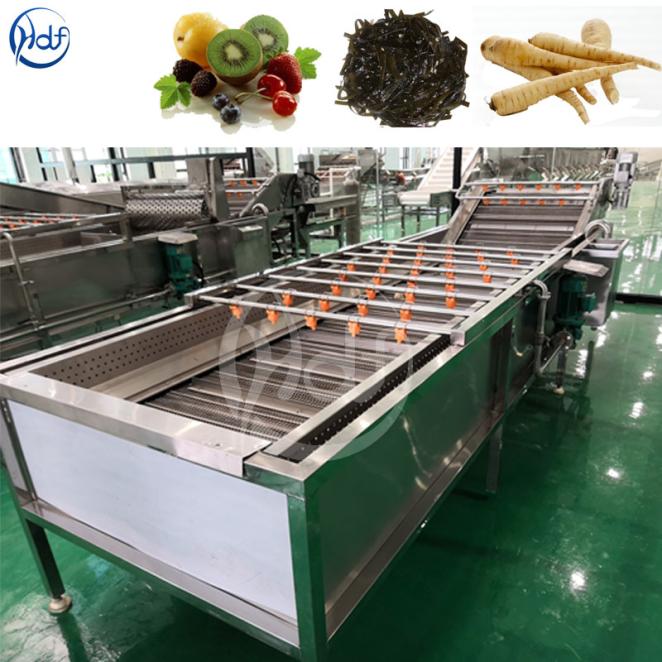 Introduce Automatic Vegetable Cleaning Equipment Cabbage Washing Machine
The vegetable washing machine is applied for factory, hotel, restaurant and farm to wash all kinds of vegetable and fruits thoroughly. Include:vegetables, fruits, seafood, and Granular, leafy, rhizome products cleaning, soaking, disinfection and fixing and so on.Such as:
Leaf vegetable:spinach,cabbage,celery,scallion,chives,etc.
Fruit:apple,pear,grape,cherry,strawberry,etc.
Rhizome products:potato,cassava,ginger,garlic,tomato,onion,etc.