Automotive Spare Parts Factory Provide Deutsch Waterproof Connectors
To cooperate with Forman that you can obtain the most competitive solution and high quality products with 24 hours support.In our factory,you can see the whole production line from the mould manufacture,plastic injection,metal stamping to full-auto assembly services and each department with professional engineer,besides we set up the professional Laboratory and R&D team to improve our ability than others.
Specification
Our Production Services

Plastic Injection,Stamping Services & Mould Manufacture

Material Options

Plastic: Nylon(PA66,PA6T,etc.),PBT,LCP,etc.
Stamping:Copper,Iron,Aluminum,Steel,etc.

Surface Finish

Powder Coating,Painting,Anodized,Plating,etc.

Max. Production Machines

Plastic Injection Machines = 300 Tons
Stamping Machines = 110 Tons

Certificate

ISO9001:2015;ISO14001:2015;IATF16949:2016,RoHS,REACH,etc.

Inspection Facilities

CCD
X-Ray Spectrograph
Three Slot Impact Test Chamber
Horizontal-Ver4tical Tester
Two Dimensional Measuring Instrument

Employess

More than 200

Shift

Double
Forman Precision
Shenzhen Forman Precision Industry Co.,Ltd has been committing to electronic component manufacture since 1999 with strong R&D and Full-Auto production capacity.Forman supply a range of USB connectors, Pin Header,FPC,Wafer,Automotive Components and custom services.
After 20 years development that Forman has passed ISO9001,ISO14000 and TS 16949 and become the member o f USB Associate. And we are proud of our progress, since our goods are widely used in many international brands and our quality is approved based on scientific TQM system.
Forman insists on introducing advantaged facility to improve our capacity from production and quality assurance, its in order to add customer value and enhance our competitiveness. We warmly welcome your enquiry, Forman will be your most suitable and understand partner.
Certificates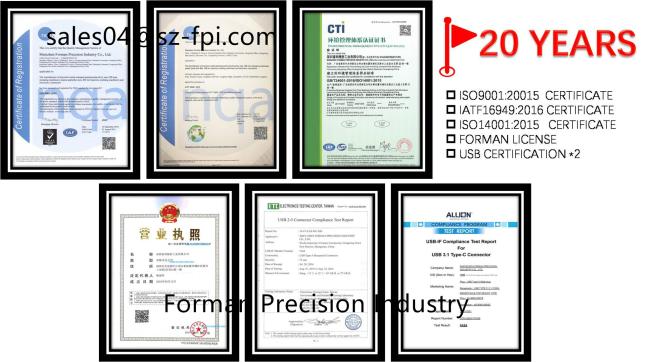 Quality Assurance
In Forman,quality management team is the core for our whole production. Every time we change the production mould then the QC must inspect the dimension, overview, function and offer the approval report to related leader before mass production. During fabrication, QC will spot check each two hours at least to avoid any defective products. And for the raw material, IQC will ask the material report and arrange some sample to test in our own Laboratory and our OQC will spot check the goods before shipment,we strictly in every process to avoid the issue as carefully as we can.
Quality Inspection Process
100% Income raw material test (element & spec.) – Worker Check - QC spot check during production (At least check per 2 hours) – 100% plating test(plating thickness & contact test) – Full-Auto Inspection( Vertical & Horizontal CCD) - QC spot check during production(At least check per 2 hours) – OQC ( Finial spot check before shipment)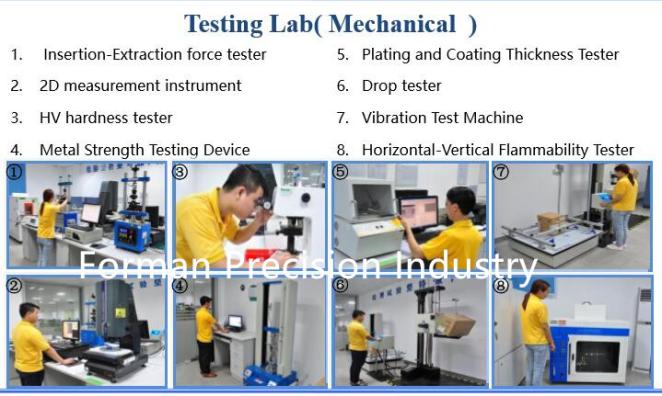 FAQ:
1 Q: Where is your factory and do you have any certificate?
A: Our factory locate in gongming town,Shenzhen and we have past the ISO9001,ISO14000 and TS16949.
2 Q: Do you have any qty limited?
A: Firstly for our stock products,we can arrange the shipment according to your requirement and for the specialize one,it depends on the production cost.
3 Q: Can you please talk something about your quality assurance?
A: FPI completely control the income and outcome material according to the ISO system and 100% check for our parts by instrument,QC will spot check in each process at least per 2 hours and before shipment,our OQC will arrange the inspection again.
4 Q: Can you modify the exiting mould according to our requirement?
A: Definitely,to save your cost and we can offer our mould for common use.
5 Q:What kinds of info you need for quotation and when can I expect your offer?
A:Thanks for your enquiry and kindly send us your drawing,picture,detail requirements and QTY.And our quotation will be sent within 24 hours.
6 Q: How long can I receive the goods?
A: For our exiting models,it can be finished within 5 working days after receive your deposit.
7 Q:Do you take part in any exhibition and could we visit your factory?
A: We will join the Moscow Electronic Exhibition, Sao Paulo Eletrolar Show and others.FPI warmly welcome your visiting and its our honor.
Kindly contact us without hesitation for timely support,thanks.