Autovis Automatic Wet-Mop Cleaner (Autovis KAC-5500)
Power, SPeed, Clean
Slide driving method that travels back and forth 1,000 times in 1 minute!
01. Slide type that travels back and forth 1,000 times in 1 minute!
Cleaner and easier with a driving method that travels back and forth 1,000 times a minute with the same method as hand wiping
02. Convenience of a wireless wet-mop cleaner
Requires no wires, has no restrictions in spatial movement and can be used easily in spaces without electricity cords.
03. Ergonomic design
Thorough cleaning without pressure on the wrist, waist or knees due to C-shape handle, foot touch button!
04. Ultra-slim body with free angle-adjustment
Ultra-slim body that is adjustable tup to 180° and can clean easily under beds and sofas!
Comes with excellent space efficiency!
05. Wide type square head
Spotless floor cleaning with a wide-type square head that can thoroughly clean angled corners!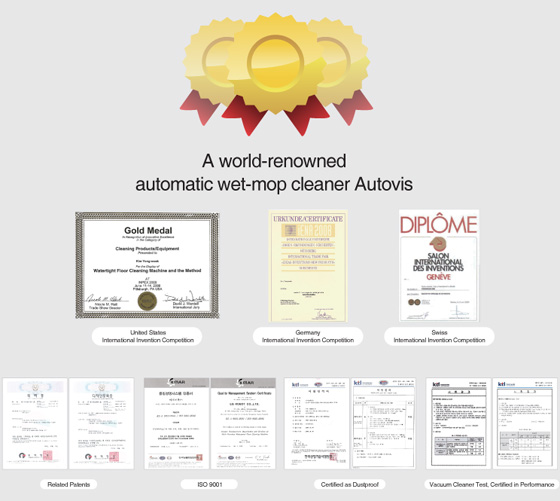 "To make difficult floor cleaning easy and enjoyable"
Easy and convenient floor cleaning
with new automatic wet-op cleaner!!
Kyungsung Autovis(Inc.) is an eco-friendly, high-tech company that specializes in the manufacturing, overall domestic sales and distribution of the world's first premium automatic wemop cleaner Autovis.
An ultra power saving product with 30W of power consumption
Autovis, and ultra power saving product with 30W of power consumption certified by the Korea institute of industrial Technology!
As an ultra power saving product that can reduce 1/20 of the electric charges of regular cleaners, it is a wet-mop cleaner that saves energy.

Lithium Battery
Autovis automatic wet-mop cleaner has a lithium battery with high energy efficiency, and can be used 60 minutes after 2~3 hours of charging. It is able to clean large spaces at once.

Available for both men and women
A freely moving wet-mop cleaner Autovis with 1/10 the strength of hand wiping. Both genders, young children, and even elders with weak knees, wrists, or waists can easily do wet-mop cleaning.
An entirely different Autovis triple microfiber pad
Autovis velcro-type microfiber cleaning wipe that can be attached and detached easily. The unique microfiber cleaning wipe of Autovis thoroughly wipes all old stains completely dry, with an attachment pad that blocks and separates thick watr drops, absorption pad that absorbs water and minimizes change in structure and the triple structure of the cleaning pad that thoroughly wipes even stubborn stains.

Cleaning and anti-bacterial effect at the same time, Autovis disposable cleaning wipe(aold separately)
Autovis disposable cleaning wipe has a diamond shaped quilt embossing and specially designed 3-layer multilayer structure and is thicker and higher in water concentration. Containing 99.9% anti-bacterial substances and detergent, it does not require detergent and is much simpler and safer for cleaning areas that are severely contaminated or difficult to hand wipe, such as oil stains, stubborn stains and fine dust.

*It does not contain any harmful bactericide substances and is safe to use.
A wet-mop cleaner that can wet-clean all floors
Autovis, a wet-mop cleaner that can wet-clean, dry-clean and polish any hand wipeable floors such as wooden floors, papered floors, papered floors and marble.
Sophisticated design with interior effects
Autovis has vivid colors that pop out upon its smooth body, and its design and colors stand out in any place, whether at home or at the office. Besides the design, it has a slim body and is able to be folded for easy storage after use.
| | |
| --- | --- |
| Product Name | Autovis automatic wet-mop vacuum cleaner |
| Model Name | KAC-5500(wireless, AC100V~240V) |
| Size | 27cm x 27cm x 118cm |
| Color | White/Green |
| Battery | Lithium battery |
| Adapter | Input AC 110V~240V, 50/60Hz / Output DC 18V, 1.0A |
| Manufacturing Country | Korea/Kyungsung AutoVis(Inc) |