Batch Type BB Fertilizer Production Line Introduction
This batch type BB fertilizer production line is used to produce bulk blending fertilizer efficiently. It is designed according to different soil components in different areas and specific requirements of compound fertilizer factories and chemical fertilizer manufacturers.

Product Process of Batch Type BB Fertilizer Production Line
PLC control system of computer → Automatic proportional batching raw materials→ Lifting by slope scraper → Mixing by roller → Mixed materials disposed into storage silos of weighing machine → Quantitative packaging (10-50kg/bag) →Conveying and sewing → Finished product pelletizing storage.

Working Process of Bach Type BB Fertilizer Production Line
1. Firstly, we should determine the types of raw fertilizer material to batch (3-8types). Put materials into each raw materials stock bin separately by manual.
2. Then the raw material bin will discharge materials by automatic accumulative type into the weighing hopper according to the ratio of weight in order. The detail process is: Batching system will firstly weigh and batch various materials in turn following a set of order and weight. First open the storage hopper 1, feed materials to the weighing hopper. At the beginning with a large feed, when the weight of material 1 is close to the setting value, it will become into fine feed automatically, close the storage hopper 1 until the weight reaches the target value; Then open the following silo, and finish batching materials 2, 3, 4... in turn according to the same principle.
3. After complete batching all of the materials, weighing bucket will open material leaking door to feed materials into drum rotary mixing machine by belt conveyor. At the same time, batching system continue to start a new round batching.
4. When mixing finished, the mixed materials are transported to the weighing and packaging silo, then go into the weighing, packaging, conveying and sewing process to finish the batching job.
5. Then batch mixing followed cycle by cycle.

Pictures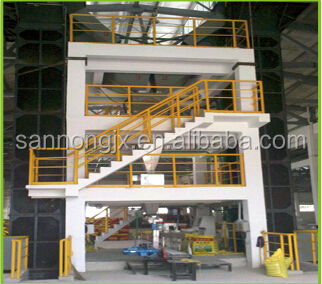 Main products
Bulk blending fertilizer production line
Water soluble fertilizer system
Fertilizer granulator machine
Mixer machine series
Drum screening machine series
Powder automatic packing machine series
Fully automatic packing machine
Mobile belt conveyor
Bucket elevator series
If you have any demands,pls be feel free to contact with us, and we will reply you with 24 hours.Welcome friends from all over the world come to our company to negotiate cooperation together!
Looking forward to hearing from you.