Beer Glass Bottle Crusher Wine Bottle Hammer Crusher
Advantages of Glass Hammer Crusher:
1. Inlet large, high crushing chamber adapted material hardness, block degree, the product powder less
2. Materials vacant, broken power consumption
3. The military high strength artillery steel spindle is designed with vacuum duplex which increases the strength by 3-4 times.
4. Hammer shaft mounted adjustable, hammer, long life
5. Grid size is adjustable, controllable particle size, particle shape is good
6. Chassis can be flipped, maintenance more convenient
7. Square shank bolts, impact resistance, wear and tear
8. Compact, machine rigidity
9. Fight structure, handling, easy to install
10. The machine shocks, counter, strike (rock stone) fragm
entation functions in a high production efficiency, mechanical abrasion is small, the overall efficiency significantly, widely used in artificial sand
Working Principles of Glass Bottle Crusher:
In the glass hammer crusher machine, the motor drives the rotor to rotate at a high speed through the belt, and on the rotor there are series of hammers.
When the materials get into the working area of hammers, the rotating hammers with high rotation speed are crushing them, the crushed products meeting the required size can be discharged by the outlet and become the final products, the large size products are brought back to the crushing area by the hammers for being re-crushed until they reached the required size.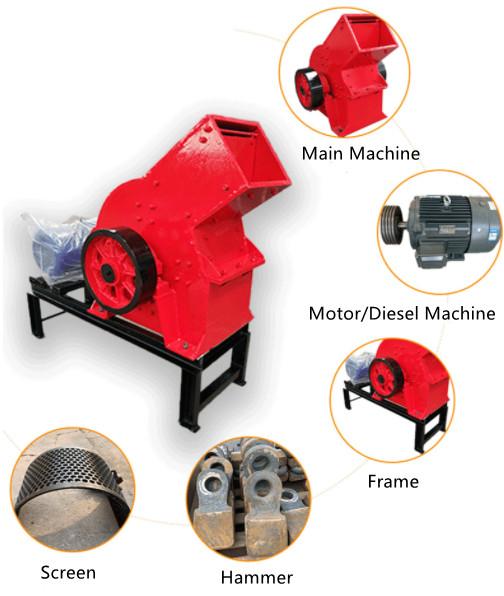 Technical Parameters of Wine Bottle Hammer Crusher:

Applications of Glass Crusher:
The hammer crusher is widely used in crushing all kinds of medium hardness andbrittleness materials such as limestone with compressive strength not more than 150 MPa and calcium content higher than 40%, such as coal, salt, white Asia, gypsum, alum,brick, tile, coal gangue, etc.
Our Service:
Pre-sale service:
1. Instruct customers to choose the most suitable equipment model.
2. Can manufacture products according to special requirements.
In-sale service:
1. Professional and technical personnel install the distribution before the goods are issued.
2. The product is strictly inspected before delivery and delivered according to the contract.
After-sales service:
1. Equipment commissioning, operation, training operators.
2. Engineers available to service machinery overseas.
Contact us:
If you want to get price or more product details, please contact us with your detailed requirements (model or capacity, input size and output size), we will send you accurate quotation and extra discounts.
Whatsapp/Wechat/Skype: +86-17320123296 (Kevin)