Principle
JHD series yeast rotary dryer is one king of single shell dryer which can be used in the drying process of a variety of slurries, especially suitable for the recycling of brewery yeast. We have yeast dryer products of different configurations to meet the demand of the annual output from fifty thousand tons to three hundred thousand tons. This machine is suitable for the drying process of food, chemical, pharmaceutical, and other industries.
Our brewers' yeast dryer product takes advantage of heat conduction between hot steam and wet materials, realizing the indirect drying process. The drum is a hollow metal cylinder whose surface is deeply processed to be clean and polished. The drum rotates to the axial underdrive devices (gear drive) in an adjustable-rate. The slurry is preheated to 0℃ in preheating tank and then delivered to feeding chute through the pump.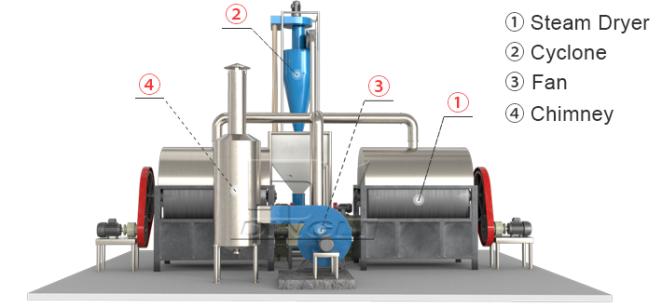 Characteristic
Yeast dryers are composed of drum, frame, transmission system, scraper device, material limit device, scraping device, feeder, steam system structure, electric control cabinet, and exhaust hood. Product features :
1. The drum is made of high-quality cast iron, which is deeply processed and polished and has the advantage of corrosion prevention and non-pollution.
2. The design of heat conduction could largely reduce the heat loss from heat media, raising the heat efficiency to 70% and lowering the energy cost.
3. Compact distribution, space saving, convenient operation, and maintenance.
4. Yeast dryer is designed based on the German machinery technique and local conditions, which has outstanding features.